Cartagena de Indias (or simply Cartagena) is a nice fishing village on Colombia's Caribbean coast with a strong colonial architecture. It's famous to be one of the safest places in the country and – due to its location – it's a popular and strategic port for ships.
This is the place where I chose to start the year of 2022. I was able to grow my team and to achieve my business goals faster than expected – so yes, the appropriate celebration is well deserved!
I have been already to Colombia but focused rather on the interior parts of the country, like Medellín or Cali in the Valle del Cauca. To Cartagena I have been once 7 years ago when I was backpacking just after founding Staatenlos 😉
Do you know this feeling of coming back to a place in a totally different condition and set up and feel proud of everything you have done and how far you have come? This feeling goes beyond words! 🥂
Happy New Year!
Before arriving in Colombia, my girlfriend Alana and I spent a few months in Brazil moving up along the coast sailing with my catamaran – SY Staatenlos – until the French Guiana. We also went to the amazing volcanic archipelago Fernando de Noronha about 350km off Brazil's northeast coast. For me as a snorkel-addict it is a paradise with sea turtles, dolphins and reef sharks.
We decided to fly to Cartagena but the we would need to be in transit for a while. We first flew to São Paulo over Recife in Brazil, then to Panama, then finally to Cartagena. It was Alana's first time in Colombia and she could see the spark in my eyes – as if the fireworks already started inside of me before they promote the sky show 🎇 🎆
Our friends arrived too – Ruben, Wieland, Mateo were also there. We moved the catamaran to the old town, so the New Year's Eve Party was with around 15 friends in a very nice scenic anchor spot. Beer, wine, nice steaks and fireworks from the boat – the prime way to celebrate life!
You plan and the life laughs
The plan was to be for more 6 weeks on the boat exploring the coast and other countries like Honduras but…well… there is this saying in German: "You plan and life laughs". Due to electrical issues in the catamaran, I needed to adapt my trip, so the boat could get repaired. This is one of the beauties of the perpetual traveler life: the freedom and the flexibility that comes with it.
I elaborated an alternative program – for example, my trips to the Antarctica, to Galápagos with my brother and to Mexico to discuss a new business plan (soon you will find out more about it) – for the next couple of weeks. We were going to spend a few more days on the SY, but then that's it for a few months 😉
Island Hopping and Snorkel
On the first day of 2022, we sailed a four to five hours to Cholon – the "Island of Young Travelers" because people like to party around and have fun with speedboats. We arrived and ordered a few pizzas to enjoy the scenery. It was nice because our food was brought by some guys with a kayak! Imagine if you could order your food over some app like UberEats, Deliveroo or Wolt and "kayak" is a delivery method! We decided to spend the night Cholon so we could explore a little bit more and have a good night of sleep.
On the next day, we sailed to the Islas del Rosário a little bit more offshore for snorkeling activities. We sailed for more 3 to 4 hours from Cholon to the Colombian archipelago of 28 islands, with a warm crystal-clear turquoise sea.
In the morning the waters were still very calm, which makes the snorkeling experience unparalleled! We were able to see beautiful coral reefs and spectacular views of underwater life. My New Year's celebration wasn't over yet 😎
Since in the afternoon, the sea was not optimal for snorkeling anymore, we decided to come back. We explored the old and the new town of Cartagena, so Alana could enjoy it for the last hours before flying back to Brazil on the next day.
The city was unfortunately very crowded of tourists, because it was a high season there over the new year's holidays. It was hard to find a restaurant that had a free table and was not super full. This is actually the freedom that the catamaran allows us to have – we have much more range to explore and to stop wherever we like! 💙
After an island hopping – now a road trip hopping!
On the next day, I said goodbye to Alana and we proceeded with a road trip up to the Caribbean coast – Ruben, his girlfriend, Wieland and I. The plan was to go to Sierra Nevada de Santa Marta – to a city there called Minca – and to spend one day in Tayrona National Natural Park. We also wanted to go to the northern part of South America – the Peninsula of La Guajira – bordering Venezuela with desert landscapes and sand dunes. I booked our driver via roadtrip.com, since it allows me to select several stop overs at touristic places and not only the transfer itself.
The first stop was at the volcano El Totumo. Who needs a spa treatment those days when you can have a naturally heated bath of grayish brown silt with a mineral-rich mud full of therapeutic properties? It even sounds fancier! While people have baths in a bath tub, we had a bath in a volcanic caldera 😉
The experience was quite interesting, since we could not stand on it but also not sink either. We went afterwards to the nearby lake and washed ourselves from the mud. Let's see how my skin will react to it!
The next stop was Barranquilla. The city is also known as the 'Golden Door' of Colombia and the capital of Colombia's Atlantic Department due to the importance of its seaport. It has a nice promenade, good restaurants with a diversity in the cuisine offerings. Last but not least, the city is where the singer Shakira was born and raised and also famous for a colorful Carnival celebration. Cool, right? 💃🏼
After having lunch in Barranquilla, we went to Minca, a town in Sierra Nevada. Since the elevation of the mountains is about 6000m, we had a nice view from the Caribbean coast, everybody can see it from the see. This small town is mostly just a stop for backpackers and avid hikers. Activities like trekking and drinking fresh organic coffee is very common.
A nice activity in Minca that we did was to visit the waterfalls after doing some hike. If there was still any trace of the mud from El Totumo in my body, there is where it got completely rinsed off!
We were a little bit tired afterwards, so we enjoyed the evening going out for dinner and with a nice cocktail at the hotel. We wanted to get ready for the trip on the next day in the Tayrona National Park.
Hold your horses!
Actually, this quote firs perfectly for what was coming next, since boats also have horse power and we literally needed to hold tight.
In the next morning, we found out that our tour got canceled due to an emergency regarding the driver. So we organized a last-minute taxi to Taganga, a fishing village 25km away from Minca and 3km from Santa Marta. Its bay is surrounded by green mountains, where some types of cactus complete the landscape!
On that day, we managed two things: 1. we did a "seaside" trip at the Tayrona National Park and 2. we negotiated a better price for a speedboat just for the four of us (instead of traveling with 20+ people) to discover the National Park along its full length from the sea side 🌊🚤
The views and the landscapes were worth every cent!
Now comes the turbulent part: the water was
really wavy. We had the full force of the Atlantic waves and they were "trade wind waves" in this time of the year 😅 this means, we were getting full notch into the waves! On the way there along 30km the waves were pretty high – and with the speedboat you can call it an adventure!!! We went full speed against the waves!
It was quite a ride – we truly needed to hold very tight so we didn't get catapulted or to feel like in a slingshot from our seats up in the air 😉 this caused such a huge pain our back and butts, as if we trained heavy squats in the gym the whole week! 🏋🏽‍♀️
Fortunately, on the way back this was not a problem, since we were going in the direction of the waves and not against them. Josh, my SY Staatenlos skipper, was also fare dodging in this route two weeks earlier and he mentioned that there the waters are kind of dangerous. Sailboats would definitely even have troubles there!
The land side of the Tayrona National Park was closed so we managed to get inside through the sea. We went to the main entrance by sea with a lighthouse and got to know many nice beaches! Tayrona is a park where the descendants of the pre-Hispanic people still live, so it gets closed always when they feel the need to!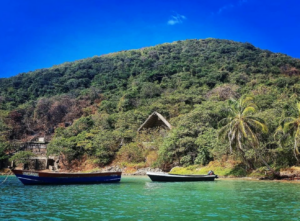 Tayrona is known for its biodiversity, blue-green water coves, crystal clear lagoons and tropical jungles. The fauna is composed by over 100 mammal species. and 300 bird species. It is definitely worth visiting! 🏝
On the way back we made several stops, since it was not so painful like on the way there. So we had the chance to recover and relax enjoying lunch in one restaurant.
Next destination: La Guajira!
The adventure was by far not over yet. Only for Ruben and his girlfriend that had to say goodbye to us. On the next day, Wieland and I were very exemplary early birds to continue with our trip to La Guajira, a blustery peninsula jutting out into the Caribbean Sea. We had scheduled a private tour to explore the northernmost region of Colombia and also from South America. We were about to be picked up in the morning and drive from Taganga towards Riohacha and Cabo de la Vela. The way until our destination was very nice for going through the Sierra Nevada and along the sea! I cannot say I didn't enjoy seeing the sunrise in such beautiful landscape!
There was unfortunately a delay in the departure from Riohacha, which is the capital city of the department of La Guajira. And when I say "unfortunately", I am not exaggerating. Unfortunately this trip is full of misfortunes. We just didn't know that yet! We needed to not only wait more than 2h in a very tiny uncomfortable seat, but also we were about to have the private trip in a totally non-private way: there were at least 20 tourists enjoying the same tour we were about to have "privately" and we shared a cramped car with a full colombian family with kids. This was going to be the set up for the next two days! Yey!
Out first stop was by a lake with crystalized salt water. Due to the hot conditions and desert climate of La Guajira, the ponds have marvelous multiple colors.
The lake was in Manaure – right on the way to the indigenous town. Several indigenous tribes populated the arid flatlands of the region long before the arrival of the Spanish expeditions. It was actually a quick stop just to buy some chips and refreshment before we entered the "nomad's land" of La Guajira 🍟🥤⛰
Unfortunately – there it is again – this region was very, very dirty. People don't seem to care too much about this location. There were lots of garbage and apparently the local community loves to block the roads. They attempt so to assure their survival trying to take money from tourists in order to let them pass. You can see many children doing the "dirty job". So yes, a lot of dirt in this region.
The action of "take money from tourists" can be simply nicely by begging or hostile by robbing. The roads were usually blocked with ropes, so it's nice to have a guide who knows how to deal with such situations. In any case, our car could speed up and break the ropes or the kids tried to remove it out of the way first! 🚧
I guess that we encountered at least 100 road blocks driving up to the north. Besides, the area is notorious for drug trafficking, since it is bordered with Venezuela.
Eventually, we arrived at Cabo de la Vela to have lunch. Thanks to its privileged geographical location, this destination is famous for kitesurfing, windsurfing and kiteboarding. It has a lot of sand dunes, a very strong wind and the water was shallow and flat.
We not only enjoyed the beach, but we also went up to the lighthouse up to the hill. Again in my life I had the privilege to experience a breathtaking sunset. Although the Sierra Nevada was around 200km away, it was still possible to see the 6,000m mountains from our point of view! 😍
Our contact to the colombian culture was when we went to some indigenous village and had fun seeing how they cook food. Some señoritas started dancing for us while a little boy was serving us some Aguardiente 🤩
We were about to stay in a guest house in the village overnight. The location was very humble: no electricity, no running water and a little mattress. What Wieland and I didn't know is that we were supposed to share the same bed! 😅 we OF COURSE build a "potato chips wall" between us in case someone comes too close in the middle of the night! Hahahaha!
Where is your north?
People are constantly looking for their north. Well, I ended up finding the northernmost point of Colombia and South America ⬆️🆙
On the next day, we were headed to Punta Gallinas, where the red pin up here is located. The region has scenic sand dunes and a very nice blue color of the Caribbean sea! Here the sunset is combined with an arid desert coastal view – so I can only recommend you guys to visit this place. You still don't know, how your "north" looks like when you find it!
I even saw a variation of the flag theory displayed for the tourists! I would however have chosen other countries to put it there! 😉
We spent quite some time here, enjoyed the region and the beach a bit, jumped into the water, had lunch and then continued our dune discovery! Wieland has a video of me running down the sand dune hills just to end up in the water! The fun cannot stop!
The big sand Dunas de Taroa in Punta Gallinas are simply marvelous and pretty impressive – but I don't know if the 4WD sees it that way! 🤷🏼‍♂️ it was not the first time that our 4×4 gets stuck in the sand!
After the amazing sunset, we went to another hotel closer to the dunes. I decided to sleep outside in a hammock, so we could finally eat the potato chips that were supposed to separate the mattress between Wieland and me. We also made a few friends at the hotel also with the other group members – well, alcohol always helps! 🍻
Sometimes things don't go smooth as expected!
In the next morning, we were already supposed to fly to San Andrés, a colombian island close to Nicaragua. We unfortunately arrived late, despite the fact that we kept constantly telling the drivers that we would lose our flights. They didn't really seem to care! They were convinced that we had enough time to drive and we were already frustrated that we could not make it on time. They also didn't care to do a proper guided tour – they were basically just driving. In short: it was a pretty disappointing trip although the landscapes are stunning!
You know… after so many trips and travel management, I ended up getting a feeling for those situations. On the day before I kind of assumed that we might lose our flight. So I simply booked a new one "just in case". Yeah, we never expect that our "just in case" scenario just happens. Wieland however needed to perform an alternative route: drive back to Santa Marta and get the flight from there.
The flight was already not super comfortable – it was only nice because of the great views of the snow capped Sierra Nevada de Santa Marta above the clouds.
This is the deal while traveling: you never know what you will find. It can be something very cool or super boring. In some cases, it can be quite stressful.
San Andrés is located about 750km away from Colombia Mainland and 200km east of Nicaragua. The island is famous for scuba diving due to its extensive coral reefs and diverse marine life. It is also easy to explore since it is not that big: the area encompasses around 26m². I kind of felt its size, since I had to make several journeys on foot! 🐾
So, when I arrived there, I grabbed a taxi to go straight to my Airbnb. I usually don't book Airbnbs, but I could not even prepare for what was about to come. It was already late in the night. AND WHO SAID THAT WE COULD FIND THE APARTMENT? The taxi driver and I were running in circles looking for that so far "inexistent address". I thought already that it was scam and was ready to claim my refund for this chaos.
Since I truly could't find my accommodation, I decided to wait for Wieland at his hotel and see if I could find a socket to charge my phone.
"Sir, you cannot be here"
"I am just waiting for my friend"
"You are not a guest at this hotel, please leave"
"I would like to book a room here"
 "Sir, I am sorry, we are full. If you may please leave"
"Can I just wait for my fri…"
"Sir, please! You have to leave!"
🙄 ugh!
So, there I was, at 2am, lost in an island without hotel, without phone battery and super tired. So I decided to walk to the touristic areas (where the discos are with a higher concentration of people) to see if that could get me something further. And it actually did. I spoke with two police officers – which I strictly don't recommend messing around with the police in South America – and explained my story. It was kind of an unusual situation. Luckily, they were very friendly and wanted to help me to find my Airbnb. They escorted me around town. It pays off to talk to locals!
Sometimes you also don't know how things simply manage to work out. They indeed found my Airbnb and the landlord was already super concerned that I hadn't shown up until then. 😬 After clarifying everything, I just fell dead in the bed to finally sleep!
I woke up in the next morning, had some calls and finally met with Wieland. We performed nice "vacation's activities", such as shopping, eating out, going to the beach, getting drunk and party hard. Just because we can 😎
Later we were about to get to the hotel where Wieland was staying again so we could change clothes to go to the disco for just a couple of minutes. And guess what? "No Sir, you are not allowed to be here". I don't know if they thought that Wieland and I were a couple, but it was already stress enough. I was happy not to be thrown out of the hotel.
The discovery is always worth it – no matter the stress!
On the next day we rented a "golf cart" to explore the island. Still a 4WD but quite a "buggy". You guys can use the imagination! We passed by several nice locations, including a pirate theme park with traditional dances, ships and old caves – we were having a nice time!
After an inland-hilly tour with our driving machine (hahahaha), we had a chance to see some real crocodiles at their natural habitat. We were not afraid of them, so we dared to walk around the lake!
After that, we went to a petrol station and gave back the car. We ate at a restaurant, I said goodbye to Wieland and I walked home.
On the next day, I did a few consulting calls and decided to use the day to relax and chill a little bit. Even a superman needs to rest, right? 💪🏼 Since the taxi situation is pretty bad on the island, I – again – walked until the airport.
It was now my turn to say goodbye to the island and I fly to Pasto for two more days, a city in western Colombia known for its Blacks and Whites Carnival. Pasto is a nice town, despite the fact that there were always been a lot of paramilitary activity in the area. The surroundings were quite dangerous in the past.
The city is definitely a nice alternative to the typical tourist towns of Colombia. It's called "the white town", where the buildings are all white 🤍 it also has a nice volcano "Galeras" above the clouds – it is 4276m high and also the highest and most active volcano of Colombia!
So, this is how the beginning of my year 2022 happened. Now it was all about getting ready for my amazing trip with my brother to Galápagos!