You've already heard all about me getting evacuated from a country simultaneously dealing with civil war and Covid-1984. And the title of this post tells you I escaped to Mexico. So the question remains: How did I get from a Yemeni island next to Somalia to lounging on the playa with corona?
You're about to join me on a long journey packed with near-empty airplanes, snap decisions and unexpected twists as we circumvent closed borders, megacity traffic and global hysteria to reach a country that just chills the fuck out. Or does it??
Spinning a globe 
I had just been evacuated off the Yemeni island of Socotra. The Coronavirus panic cut my trip to this beautiful alien island short.
After flying into and out of civil war on the Yemeni mainland, I found myself back in Egypt with some serious planning to do. And not a lot of time to strategize.
News updates about countries closing their borders and restricting travel were arriving by the hour, so I had to act fast. I ended up not going to sleep at my Cairo hotel until 5 am. I was researching options and listing pros and cons of potential getaway destinations where I could ride out the panic.
There was a lot to account for. Worst case scenario projections were indicating world travel might shut down for as long as six months. To me, this of course was insanity because we were dealing with what essentially is a harmless flu.
And it came at a terrible time for me because I was less than one year out from my projected date of completing my travels to every country in the world.
The first choice
My first choice was Brazil — for several reasons. The first of which was President Bolsanoro. He had not yet given in to the panic as much as leaders of most other countries. Another reason was my ideal quarantine destination of Fernando de Noronha.
A lesser reason for me going to Brazil would be to try out a neat business called Voom, which I will tell you about shortly.
Another significant reason why I would consider riding out Covid-1984 in Brazil is red meat. Brazil has some of the best steaks in the world, and beef is a rich source of iron, zinc, and selenium which all boost the immune system. Of course it's also important for mental well being to be dining delicious red meat while other people freak out and hoard toilet paper.
Other than Brazil, I considered going to Japan, a pretty rational country, and a few other places. Of all the places I considered, Brazil was the only destination I could find flights to out of the Cairo airport.
Making the booking
Now the tricky part was figuring out which flight would be best.  In just 2 days Egypt was going to close down its airports. I had to find something leaving the next day that would take me to Sao Paulo, Brazil.
There were a few options connecting through Germany. I was afraid if I chose one of those routes I'd get stuck in Germany — something that could come with disastrous tax consequences.
There were also routes transiting through London and Johannesburg, but for whatever reason the websites wouldn't let me book them. In the end, I found an 800 euro economy ticket for an Emirates flight connecting in Dubai.
I left the next evening, just a few hours before the airports closed in Egypt. I made it out of Egypt just in time.
After a four hour layover in Dubai, I was getting ready to board the Airbus A380 to Sao Paulo. I was really happy to learn that for 500 euros I could upgrade to business class for the 15-hour Dubai-Sao Paulo flight.
Absolutely worth it. Emirates definitely satisfied me throughout this trip.
Other than the bar, they had great food and wine selections.
Plus lots of legroom:
Cozy little business class quarters, event for a 6'7″ man.
And even my favorite in-flight game….
Long story short, it was a long flight that felt very short.
Brazil, Indefinitely
I landed in Sao Paulo and had no issues with immigration. They asked me how long I intended to stay and the usual stuff, but nothing related to global insanity.
Normally traffic in Sao Paulo is a disaster, so… this is where Voom comes into the picture. 
Voom is something like Uber except with helicopters. It only operates — or rather operated — in a few cities and Sao Paolo was one of them. Here you can see the Facebook livestream I did about the ride.

I was quite excited to try it out. For about 100 euros you could have a private helicopter ride to any of the three skyscrapers in the city with a helipad.
One of the skyscrapers happened to be the hotel I was staying at. So I was able to go from the airport to my hotel in about 10 minutes in a city that usually is in the top 10 of "worst traffic in the world" rankings. Very convenient.
I had arrived fairly early in the afternoon so I rested at the hotel for a bit, then ventured out in the evening to find some food. The streets were more empty than I had expected. Bolsanaro hadn't soothed everyone's worries, I guess.
I found a nice steak house and had a delicious Brazilian Picanha steak. 
After all the chicken I had been eating in Socotra, it was certainly nice to eat red meat again.
I walked around Avenida Paulista a bit after dinner before heading back to the hotel for the night. One thing worth noting is that while I was walking around I heard a lot of people shouting from the windows "Bolsonaro out… Bolsonaro out…"
It crossed my mind this wasn't a great sign, but I didn't pay to much attention to it.
Waking up the next morning I immediately started doing research on what my plan was going to be for the next few months now that I was in South America. Fernando de Noronha was already out of the equation. The archipelago had its first corona case and tourists were being kicked out.
Instead, I decided to head south to Rio Grande do Sul, which is the safest, wealthiest and one of the oldest parts of Brazil. Additionally, there is a very nice Marriott in Vale dos Vinhedos in the mountains of Sierra Gaucha. I figured with corona lockdown it would be a good spot to collect some points and get more Marriott status.
I booked the hotel and a flight for the next afternoon to Caxias do Sul which is the nearest town.
With my plans all finalized, I felt a bit of relief and went out to try the local Brazilian McDonalds. 
The quality of beef in Brazil is so high that even McDonald's was very tasty there. It was almost as good as the MacDoland's from my trip to Tajikistan.
Just kidding… I wasn't in the mood for "MacDoland's" this time.
I walked around Sao Paulo a little bit taking pictures before heading back to my hotel.
That evening I was meeting with a member of the Staatenlos community named Michael. We headed to an area that is supposed to be quite lively, but we were basically the only ones there.
Restaurants were supposed to close the next day so this was the last evening possible to have a few drinks at a bar. It was a little ominous and I was starting to feel unsure about Brazil staying relatively panic-free.
Bolsonaro still thought the hysteria was excessive, but the local governments were implementing quite a lot of restrictions. As I mentioned earlier, hearing people chant "Bolsonaro out" on top of losing control of local governments meant he was probably going to have to concede to the panic.
The same evening Michael and I went out for drinks, Brazil decided no more incoming flights from Europe. Emirates even canceled all their flights so I had gotten into Brazil on one of the last ones.
Southern Brazil… or not
The next morning I woke up still counting on flying to southern Brazil to "hibernate" for awhile. I checked the news and found out that the governor of Rio Grande do Sul had just closed down the state and completely forbid interstate travel. 
Even the Marriott I had booked would be closing down for weeks, starting in a few days. My flight was still valid so I considered going anyway.
But I don't know the area well, so without convenient living quarters it might not be as convenient as I'd like. If I ended up being stuck in a small village without being able to speak Portuguese, and without restaurants or bars or things to do, it could make for a miserable few months.
Christoph out??
I decided at that point to call a fellow traveling libertarian friend who I knew was in Mexico. He told me everything was still open and things were easy and less hysterical there than Brazil.
He and his girlfriend were staying in Playa del Carmen. I was sold.
I made sure the border was still open and started checking for flights to nearby Cancun. I could find flights, but they were no longer bookable — similar to the Cairo-Sao Paulo flights I was looking at that connected in London and Johannesburg.
After a frustrating couple of frustrating hours, I finally found a Copa Airlines flight through Panama. I booked it but didn't let my hopes get too high because of what happened that morning with my previous plan.
Sure enough, two hours later Copa emailed me and told me the connection from Panama to Cancun was canceled. I didn't want to get stuck in Panama, so it was looking like I'd be stuck in Brazil.
At that point, I attempted a Hail Mary of finding another flight and it was successful. I found one with Aeromexico to Mexico City, and then from Mexico City there was a domestic flight to Cancun. I bought one of the last seats on the plane, then had to pack quickly and check out of my hotel. Luckily this perpetual traveler lifestyle means I can pack pretty quickly.
I took an Uber to the airport and went to the Marriott they have at the airport. As soon as I arrived I got another email from Copa.
This one said my flight was reactivated, and I would be flying out of Sao Paolo that evening to Cancun via Panama City. So rather than having no flight out of Brazil, suddenly I had two. Which one would it be? Copa though Panama City or Aeromexico through Mexico City?
Back to the initial plan. I was flying with Copa.
My flight was to be at 1:30 AM so I slept for a bit at the Marriott before heading to my gate at around midnight. Usually, you need proof of an onward ticket to show you're not staying in Mexico forever, which I didn't have obviously. Thus I had to argue a bit about not knowing when I was leaving due to the virus. Eventually they let me board the plane.
The flight to Panama was pretty full compared to the connecting one to Cancun. As you can see Panama's airport was still operating and quite busy. Many rushed travelers were transiting in Panama City.
My flight from Panama to Cancun however… basically a private jet 🙂
My sleep schedule had been pretty irregular, bouncing around countries and time zones so much over the course of a week. I mostly slept on my near-empty Copa plane.
I did watch one movie though: Fast and Furious: Hobbs and Shaw which came out last summer. The premise of the movie is defeating a virus/pandemic so I had to wonder if Universal Studios had any inside information… Regardless it was a good movie.
When I landed in Mexico, immigration went smoothly. They allow you a vacation permit of 180 days, so I officially reset my corona hideout clock to six months. I was hoping the forced hibernation would not last that long, but there are certainly worse places in the world to be than Playa del Carmem. 🙂
All's Well That Ends Well…
Playa del Carmen is popular among nomads. Even during COVID-1984, the beach city still has a nomad community.
I had reserved a nice Airbnb with a pool and private deck, which you can see here:
All in all, after a frustrating few days of having plans canceled and not knowing where in the world I would be or what I would be doing, I was very happy with the end result.
Not to mention Mexico is extremely cheap and I am fluent in Spanish. Being in a country where I speak the language would be hugely beneficial if this virus panic were to drag on.
My first full day in Playa del Carmen I explored a bit and visited a local beach. There were quite a lot of people out there, no one paying much mind to the hysteria or social distancing.
The crowd was smaller than normal given it was spring break season and usually very packed, but it was still nice to see a crowd of people with everything going on in the world.
Afterward, I met up with my friend Tobias and his girlfriend to find some dinner. All the restaurants and clubs were still open. we found a little vegan restaurant and had a nice dinner before going to a Cuban bar for some mojitos and salsa dancing.
The next day I had to catch up on some work that I'd gotten behind on with the previous week of craziness. After working for a bit I went out for a bite to eat and had my favorite Mexican dish, Alambre. Alambre is basically just mixing together pork, bacon, beef, peppers onions, guacamole, and sour cream. What's not to like 🙂
After walking up and down the beaches a bit more I settled into a little beachside cocktail bar for a refreshing sundown cocktail.
Not sure which was better between the sunset and the cocktail.
The situation regarding the virus in Playa del Carmen was very tame. So I was happy to be there.
At this point, there was only one reported case in the area. The streets were full of people trying to sell you marijuana, cocaine and tequila. All of which they claim will kill the coronavirus 😛
Cancun would be shutting down its airport in a few days. Slightly concerning, but it didn't really affect me.
Still life with Christoph
The next few days were filled with work (with a corona for good measure).
With breaks for some old video games from my past
Swimming and exploring 
And of course, beachside cocktails and fire shows.
Four days into my stay, Mexico issued voluntary quarantine rules. They added an alcohol sale curfew for the clubs and asked people to practice social distancing in restaurants. Much like the rest of the world, they asked you to limit the number of people in a supermarket at one time and that sort of thing.
Even so, I was enjoying my time in Playa del Carmen and thought it was a good place for me to be. 
Staying Put For Now
On the fifth day, I met up with a friend of mine named Aaron. He and I were actually supposed to be meeting at this time at the Mallorca Blockchain Days event, where we were both scheduled to give presentations. Instead of on a Spanish beach, we were gathering on a Mexican beach.
Aaron almost got stuck in Spain when the conference got canceled, but luckily grabbed the last flight out to Mexico. 
We shared our stories about this strange time to be traveling over a nice steak lunch before Aaron departed south to Tulum. He mentioned that quite a lot of nomads were gathering down in Tulum, so I figured I'd go check it out. I was happy where I was for the time being, but the company of other members of the Staatenlos community is always a nice touch.
My corona routine
The next couple of weeks were filled with what was becoming my corona routine in Playa del Carmen.
 I changed flats a couple of times but stayed in the same area. My second flat was very stylish and a bit closer to the beach.
The third flat was practically on the beach. I didn't think I'd get sick of this one as quickly.
Other than that, there isn't much to report about these couple of weeks. I could still enjoy my white wine at 11 PM at restaurants that don't heed the government prohibitions. 
And I could still enjoy my ice cream.
And perfect beaches.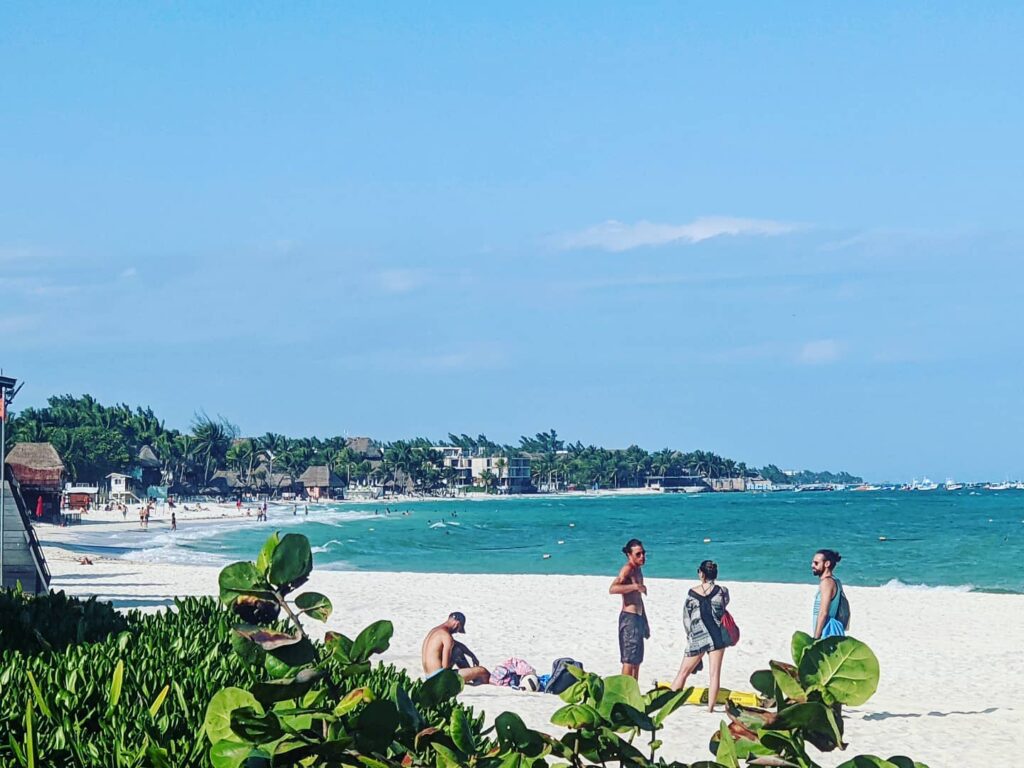 As well as small get-togethers with friends.
And of course the occasional game of Catan. (I won again.)
So Viva Mexico…
But Then The Harmless Flu Finds Mexico
Unfortunately, the fun is starting to draw to an end.
The governor of Quintana Roo (the state Playa del Carmen belongs to) waited until a day after Easter to apply an executive order which destroyed this routine I was enjoying.
He followed the lead of many other countries by banning all outside activities except for shopping and various emergency things. It took a while, but the panic eventually found its way to Mexico.
This picture is of a line for an ATM machine. As you can see people are beginning to wear masks and keeping a certain amount of distance.
The new rules meant it was probably time for a new flat for me. I was intending to stay until May, so I wanted this one to have everything I needed.
It wasn't as necessary for me to be near the beach with the new restrictions, so I figured I'd prioritize having some space. I found a nice villa on the edge of town with a big backyard and garden area to avoid. The owner has an Italian restaurant and said he would be happy to be my private chef for the duration of my stay.
I even have my own personal cenote:
It was good to get a place where I could stretch my legs a bit and not be cooped up in a smaller apartment by the beach. This one had plenty of wildlife to keep my company too.
This giant rat looking thing is called an agouti. It is the largest rodent in the world and basically the cousin of a guinea pig. The Catholic Church actually issued a special dispensation for these to be eaten during Lent and Holy Week when most other meats are banned. Since I took this picture after Easter it's safe to say this little guy survived the great agouti culling of 2020.
Other than the agouti, I had some cool geckos around the property, iguanas and some lizard called the Jesus lizard because it can run on water.
So this is home for now. I hate shopping in general, but now seeing everybody out with these stupid muzzles everywhere is too much. I am happy to be able to order all my groceries from the comfort of my pink flamingo with apps like Rappi and UberDelivery.
As of mid April, the Quintana Roo lockdown is expected to last until the end of May. So despite my comfortable pool seat, I've had enough here.
It's now been over a month since I was in Socotra and I'm ready to travel again. I've been frequently checking flights and monitoring countries as they begin to open up. Lately, the options I've been considering include: Sweden, Austria and Belarus.
To me, the best possibility seems to be my favorite country for tank riding, Belarus, which has had the most libertarian president in Europe during Covid-1984. Alexander Lukashenko's policy has been keep going to work and drink vodka for good health. That coupled with the opportunity to learn Russian with a hot private teacher makes sense to me. And then there is the great 75th anniversary victory parade against Nazi Germany on May 9th – pretty symbolic in times like these…
But what do you think? Where should I go next?
Adios for now.