The Marshall Islands make for a beautiful snorkeling destination and a tax haven/hideaway for tax evaders. Sounds like a place for me, though I don't advocate the latter. Without a doubt I enjoyed my short stay in the Marshall Islands. But, as some people say, it's about the journey. This time was no different.
My journey to the Marshall Islands started back home in Germany, where I spent my Christmas, or rather, my Christmas Eve. I had just three days to get from Germany to the Marshall Islands. Yet over those three days, I flew to Southeast Asia in style, stopped in a country for the sole purpose of watching a midget boxing match, overcame hassles to enter United States territory in the South Pacific without a visa and finally took the famous, ultra-scenic Island Hopper flight to reach the Marshall Islands. Here's a more thorough look at my pre-Marshall Islands 72 hours (approximately).
The journey to Manila
I left my hometown Herford at 6 am on Christmas Day and headed to Frankfurt, where I boarded a 12-hour Singapore Airlines flight to Singapore. I was actually headed to Manila in the Philippines, and Singapore was just a connection location.
Singapore Airlines business class made for a memorable and very comfortable flight experience. I enjoyed the comfort of possibly the broadest seat one can get in a plane. It was upstairs, too! You could easily fit two people in this second-floor A380 seat. After landing in Singapore, my connecting flight brought me to Manila, where I landed the day after I departed Germany.
The little men that could fight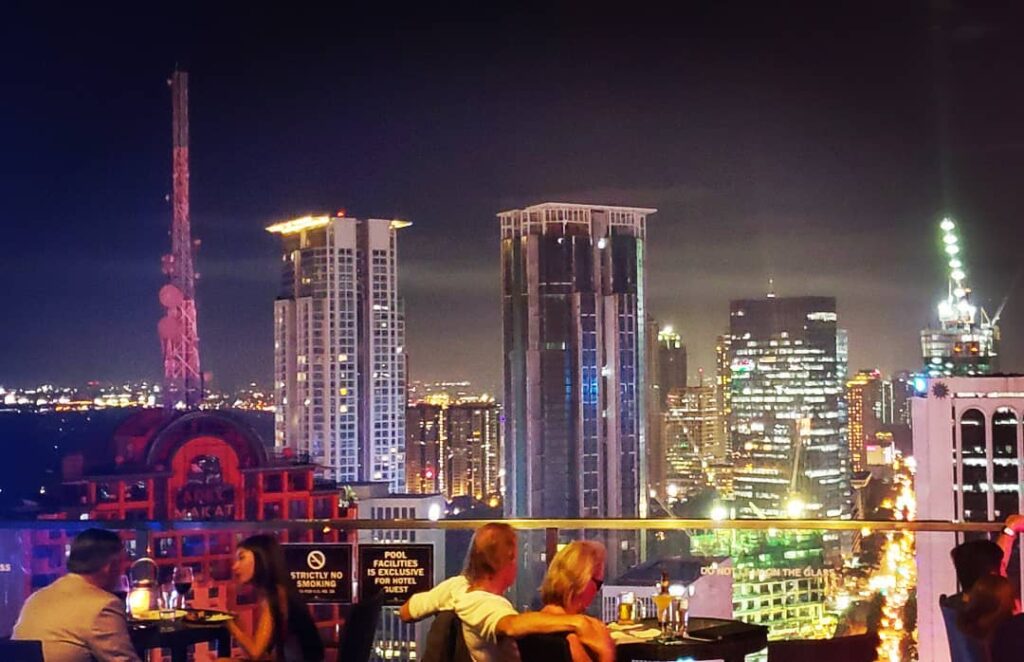 My plan was to stay in Makati, the upscale, wealthy area of Manila. So I arrived at the City Garden Hotel Makati and rested a bit in preparation for an exciting night out.
In all honesty, as alluded to in the intro, the main reason I was making a stopover in Manila was to watch midget boxing. Of course that's politically incorrect to say, but it's the truth. Manila has a bar that is notorious for midget boxing matches, and as I'll explain shortly, everyone comes away a winner… well, not exactly. One midget does lose each fight.
After my rest, I headed to P. Burgos Street, the heart of Manila's red light district. P. Burgos Street is basically its own city. There I got some grub at a Mexican restaurant before going to the venue. Having filled up on quesadillas and Coronas, I was ready for the main act of the night and my stopover in Manila.
For a long time, some friends of mine had been telling me about this bar in Manila. It's called Ringside Bar. Can you guess why?
Ringside Bar is basically a strip club. There are scantily glad girls working in the bar who you can talk with and who will sit on your lap as you take in a fight. You can pay for the girls to massage you, and you can even take them home with you for a fee of 4,000 Philippine pesos — around $70. I didn't take any of the girls home. But I did enjoy being surrounded by these hot Filipinas.
Where this bar differs from a strip club is right in the middle. Rather than there being a pole in the middle of the bar, there is a boxing ring. There aren't always midgets boxing in the ring, but pretty much all the time, there is some fight going on. Sometimes there are Filipinas boxing in the ring. And sometimes the Filipina catfight is a proper boxing match. At other times, there is a midget fighting a Filipina.
But the big attraction, and what I was there to see, was a midget fight. It is quite a spectacle, beginning with before the fight even starts. For the fight to start there must be a referee in the ring. Who is the referee? It's actually a spectator who enters the ring, starts and observes the fight and decides who wins and who loses.
Watching the midget boxing match was a lot of fun. In the end, one of the dwarfs won and spanked the other guy on the butt with a boxing glove. The winner then went around the bar collecting tips. The whole thing was very amusing.
While a midget boxing bar may be politically incorrect in many countries, in the Philippines it is a great display of societal inclusiveness. In the Philippines, a developing country, midget boxing gives the dwarfs opportunity to earn money they otherwise probably would not earn. And the midgets have fun with the whole experience. They have a sense of humor and are not shy about poking fun at themselves, particularly when they bump into a 2-meter tall man. I can attest to that. ?
My stay in Manila also included exploring more of Makati, where I checked out how the rich Filipino families live.
I wanted to explore Intramuros, the walled old town town within Manila. I didn't end up going there, though. I had just one day in Manila, and it was time to head to the airport.
The never-ending Manila-Guam route hassles
The Manila-Guam leg of my pre-Marshall Islands trip was where things really got complicated — so much so I wasn't sure I could board the plane. Guam is a United States territory (one people may have heard of since a U.S. congressman famously said he was worried the island might tip over because of overpopulation). For entering the U.S., I use ESTA , the electronic visa waiver system. Apparently, in the Philippines, they had never heard of ESTA.
It took me a long time to explain I had my permit or electronic authorization to enter the U.S., including the territory of Guam. Once I got that resolved (sort of…), I had to undergo a security procedure I had never dealt with before — the shoe check. On top of going through a body-scanning x-ray machine, I had to submit to a power-tripping guy who wanted to search my shoes (for a bomb??). After taking off my shoes and putting them back on, I eventually made it to the gate, where I found out the ESTA escapade still was not over. Airport and airline workers in the Philippines really do not know what to do with a passport lacking a U.S. visa when someone is flying to Guam. Finally, though, they let me board the plane.
At this point, I should probably stop complaining. But only since I was flying Cebu Pacific, I will carry on. Cebu Pacific is probably the worst low-cost airline — think Ryanair, but with seats geared for Asians, who are smaller than Europeans (Yes, more political incorrectness ?). I had never before flown with such little leg and body space. To make matters worse, it was a four-hour night flight, and I was stuck in the middle seat. Especially following my Singapore Airlines business class flight, this wasn't a pleasant experience. Cebu Pacific was the only option available for this flight, and I quickly learned it is a horrible airline.
Getting a glance at Guam
I arrived in Guam and went straight to my hotel, the Westin Resort. I wanted to get some more sleep, but I was told there was no free bed for me. I argued a bit, and the receptionists then told me I could check in early, but I wouldn't get my room upgrade. This was fine by me, yet the hotel staff, who were so nice, were apologetic for not giving me my upgrade. They gifted me instead with free transport to the airport, a food coupon and more goodies.
After sleeping a of couple hours, I went for a walk on the beach. I hiked to Two Lovers' Point. Actually I didn't. The point is up on a hill, and I was on the beach down below and couldn't get up there. Nonetheless, the scenery was beautiful. It was as if I was back in the Maldives (I spent 10 days there before Christmas).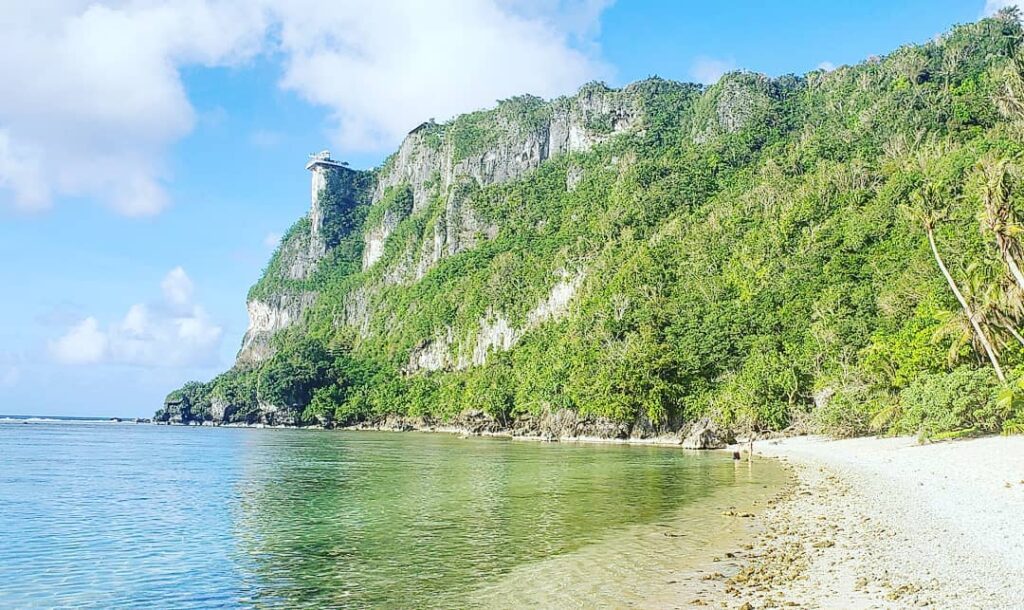 In the evening I went to a Las Vegas-style theater for a magic show. The theater is called SandCastle. I had a drink and watched the show, which included magicians doing David Copperfield-esque tricks. The show also featured two tigers, including a white tiger, a rarity. The performance wasn't too bad, but I had seen something just like it before in Las Vegas.
Brief but beautiful basically sums up my Guam stopover.
The infamous Island Hopper flight
The next day was the grand finale of my journey to the Marshall Islands — the United Flight 155 Island Hopper. Flight 155 is a Guam-Honolulu route that, due to its island hopping along the way, basically serves as the transport backbone of the Federated States of Micronesia and the Marshall Islands.
Flight 155 makes a combined five stops in the Federated States of Micronesia and the Marshall Islands. Each leg of this part of the journey is one hour. It takes 7 hours to fly to the five islands from Guam, including a half-hour stop on each of the first four islands.
The 3 Micronesian island stops are: Chuuk, Pohnpei and Kosrae, followed by Kwajalein and Majuro in the Marshall Islands.
Kwajalein is an island that houses a U.S. Army base. Majuro is the capital of the Marshall Islands and was my final destination on this journey.
After Majuro, the flight continues on to Honolulu, which takes another five hours. The following day, United 155 returns on the same route going in the opposite direction.
At each stop, with the exception of Kwajalein, you have the option of staying onboard or getting off the plane and staying in the transit area. If you stay onboard, you need to take your bags down from the overhead compartments and clear the aisle.
The Federated States of Micronesia are actually quite hilly, in addition to being very green. Unfortunately, I didn't have time to stop and visit Micronesia, but I did manage to get a passport stamp there. I went through immigration at Chuuk, which is one of the four federated states. I also got off the plane at Pohnpei and Kosrae, which, too, are Micronesian states. At Pohnpei, there is wifi in the transit area, I should note.
This country consists of about 600 islands, with each of the four states containing one or more main islands. The states, with exception of Kosrae, also have numerous corral atolls. As the Island Hopper flew over Micronesia, I enjoyed beautiful panoramic views of the atolls.
By the way, the Island Hopper plane is quite comfortable. And with views like these, I certainly will not complain.
Marshall island life at last
The Island Hopper landed in Majuro just before sunset. After a nice little greeting at the airport, I was driven to my accommodation, Hotel Robert Reimers.
Majuro is the capital and largest city of the Marshall Islands, but it is also a coral atoll comprised of 64 islands. The islands are very narrow. The city of Majuro, for instance, is basically a strip of corral with buildings on it. In the city, there is one road that circles around the strip of corral. The airport is located on a different side of the island than the Reimers. It took about a half hour to get to the hotel.
After checking in, I returned back to the ring (or maybe I should say reef) road with a group of people who were all going to dinner with me at a certain restaurant. We needed to take a taxi. The problem was the taxi driver didn't know where the restaurant was, and we didn't either. The taxi driver took us in the wrong direction, then turned around and headed back in the other direction. We didn't know when to tell the driver to stop, so we drove past the place and had to double back again. Ultimately, we made it to the restaurant. Taxis are super cheap in Majuro, so it didn't matter anyway.
The main activity during my stay in the Marshall Islands was a day trip to Eneko Island, an islet that is actually operated by the Reimers hotel. Part of the Majuro Atoll, Eneko Island is a short boat ride away from the Marshallese capital. It's an island where tourists go to chill at the beach, swim and snorkel in the the best reef I have ever explored. And the reef is located right at the beach. Swim five meters and you are suddenly in crystal clear water and snorkeling in this amazingly colorful corral reef.
I spent the day chilling on Eneko Island with a small tour group. We had a barbecue and some drinks and of course snorkeled. On the way over to the island, we stopped to check out a sunken Japanese fighter jet, one of the many World War II relics for which the region is famous. On the way back to Majuro, we hit a choppy sea and got pounded by a big rainstorm. I put my snorkel mask back on in order to prevent myself from getting blinded by the rain.
One would never know — unless of course you care to be informed — that this paradise has ties to some shady business. No, we're not talking child sex scandals like on Pitcairn. Rather, in good offshore fashion, Eneko Island was claimed as part of one of two micronations that were staking claim to Marshall Islands territory. The self-declared Kingdom of EneKio and the self-declared Dominion of Melchizedek were internationally unrecognized micronations that operated in the late 20th Century and drew rebuke from the Marshall Islands, which denied their existence. The Dominion of Melchizedek was linked to banking fraud and both micronations were considered to be scams. The Kingdom of EneKio and the Dominion of Melchizedek were both issuing passports and may have been selling them.
What exactly are the Marshall Islands?
The Marshall Islands — the 15th least visited country in the world — are made up of 29 corral atolls spanning 1,156 islands and islets. The country has a population of more than 50,000 people, about half of whom live in Majuro.
British explorer John Marshall, who visited the Marshall Islands in 1788, is the namesake of the country. The Marshall Islands was a Spanish-turned-German colony — FYI Robert Reimers, the namesake of the hotel, was German. Then the U.S. took control of the Marshall Islands during World War II. The Marshall Islands are now a U.S. associated state — meaning they are guaranteed American military protection. But the Marshall Islands have been an independent country since 1979.
Coincidentally, the Marshall Islands has plenty of offshore activity of its own. Majuro is full of letterbox companies. In fact, I have a letterbox company there. It's called FuckDsgvo Limited. I tried to find my letterbox but didn't succeed.
Back to the beauty
Even though Majuro, is just this strip of corral with buildings and letterboxes belonging to tax evaders and tax avoiders (I fall in the latter category), it is stunningly beautiful. Imagine white sandy beaches surrounding an azure lagoon and an abundance of coconut trees. Also, there are lots of colorful, blinking Christmas decorations — even after Christmas. Actually, you don't need to imagine these things:
Speaking of island beauty, my Pacific island hopping adventure did not end here. It continued on, with the next stop being the even less visited country of Nauru. To get my impression of Nauru and its rugged beauty in decay, you'll have to stay tuned to the blog.