I have been a perpetual traveler for over 4 years now. This year I spent more than 1 out of every 20 days at sea (Antarctica, Pitcairn & Nomad Cruise). I have long been destined to set sail with fellow world travelers on a ship specifically for nomads. Yet destiny was not manifesting.
A few years back, I actually bought a ticket for the inaugural Nomad Cruise that took place in 2015. But I didn't end up boarding the ship. We don't need to get into why. It's not that exciting of a story.
Then came the next five nomad cruises. I missed them all. But I was not deterred.
Come November 2018, I was ready and waiting in Barcelona, Catalonia to step aboard Nomad Cruise 7 and sail across the Atlantic to the warmer, wilder shores of Brazil. And that I did. Here is the story. How French police almost detained me just before you can read here.
Wait, what's the Nomad Cruise?
The Nomad Cruise is a twice-a-year event in which nomads, expats, perpetual travelers and other like-minded people all sail together on an approximately two-week cruise full of parties, networking and talks and workshops about nomad life, business and more. In the spring, the cruise, sails in and around the Mediterranean. Come autumn, the Nomad Cruise crosses the Atlantic. 
Okay, perchance you are reading this and you are unsure of what the Nomad Cruise is. Of course, you can click here and look it up, or just keep reading this blog post and you will get the drift… Either way, I'll do you a favor and give you a brief synopsis right now.
It's billed as a "skill-sharing journey," so everyone is supposed to have something to offer or contribute to the betterment of the overall nomad community. The cruise draws the who's who of the digital nomad community, as well as hundreds of traveling souls from around the world.
My pre-cruise workation
The Nomad Cruise is not designed to merely connect nomads during the time they spend aboard the ship. It is intended to facilitate friendships and business and travel partnerships. Nomads tend to spend time together before and after the cruise. That's exactly what I did, meeting up with friends in Barcelona ahead of time and continuing our travels together in Brazil after crossing the Atlantic. I'll leave my Brazil adventure — hardly my first — for another time. But I'll tell you a bit now about the workation I organized in Barcelona in the lead-up to Nomad Cruise 7.
As is the case with all of the workations I put on, I rented a place for the participants to stay. This wasn't like the villa in Rio. But the photos looked nice, and it was in a good location, Eixample, a district in Barcelona between the hip Gracia quarter to the north and the old town to the south. There are lots of nice bars and restaurants in the area.
9 German-speaking entrepreneurs, who were all crossing the Atlantic on the Nomad Cruise, joined me in Barcelona for the workation. The 10 of us arrived in Eixample and headed to our accommodation, basically a large townhouse, or maybe even a miniature villa. It looked good from the outside. And on a small side street, there was a portier who let us onto the property.
Unfortunately, the inside told a different story. The townhouse was a bit rundown. It did, however, have a nice pool table, which we used almost every day.
There was one big problem, though. The Airbnb host left us — a group of 10 people — just one key. After a bit of complaining, we were given an additional five keys.
Quick investment plug
As some of you may know, particularly if you were present at this year's Heuereka II, I am a partner in a short-term rental business. I bring this up because we have a well-functioning automated system of operating short-term rentals that eliminate issues like guests needing extra keys. Rather than dealing with keys, we install door code locks on our properties in Vienna, Budapest, and Leipzig. Even individual rooms have door codes, which are good just for the time the guests are renting the flats. 
Rather than using Airbnb, we use Booking.com, which allows us to handle the payments ourselves, enabling us to receive the money much quicker, maintain better cash flow, and scale faster. We also have custom software that manages apartment occupancy.
If you are interested in investing, you are in luck. We are still looking for investors. We plan to use investments in our business to purchase new flats and eloquently furnish them. Investors will receive revenue from the business for 30 years and can expect a yearly ROI of around 25-30%. Email me at christoph@staatenlos.ch if you are interested.
Back to Barcelona
This was already my 5th or 6th time in Barcelona. Over the course of the 6-day workation, I didn't do anything particularly touristy… in the city. On one of the days, my fellow workationers and I got up early and headed out to Montserrat, a famous peak with a monastery in Catalonia. The purpose of the excursion was to go hot-air ballooning.
I had gone hot-air ballooning previously in Cappadocia, Turkey. But still, I have a fear of heights. So I set out on the Catalan ballooning adventure knowing it could get nerve-racking. 
When we arrived, our balloon was filled with air, and it was quickly time for liftoff. But it was very foggy outside. We thought this was a bad day to fly in a hot-air balloon. 
Also, the basket we were in was very small. It was only about 2 meters high — making it hard for me to fit inside it. I worried that I could easily fall out.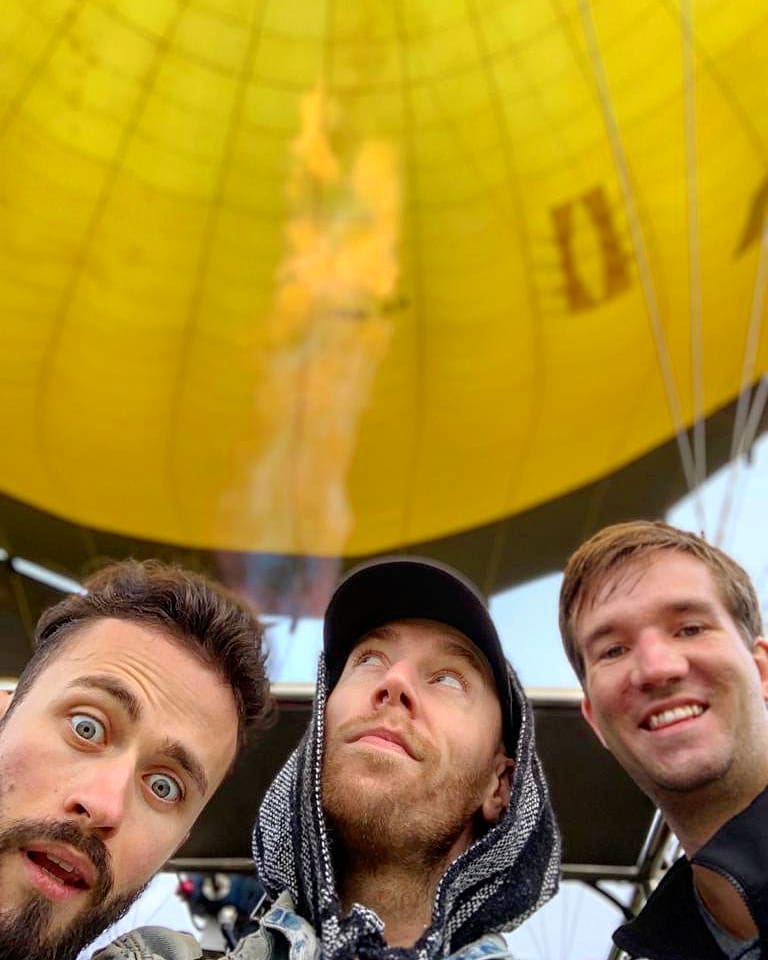 We rose quickly. At 300 meters something changed dramatically — the fog lifted. We suddenly found ourselves above the clouds and fog with perfect views of Catalonia.
We kept rising and rising, eventually getting up to 1,000 meters above ground. As we went up into the sky, it didn't feel like the balloon was moving. 
A kilometer above Catalonia the views were amazing. We had perfect views of the Pyrenees, as well as most of Catalonia, stretching all the way to the coast. 
This was a very memorable experience, which so happens we booked through Airbnb experiences. For that, I can recommend Airbnb. ?
After returning to earth, we went up Montserrat and visited the monastery. I had been there before. This visit was just for a quick look around and some photos.
Back in Barcelona, the workation routine included a lot of working and going out in the evening, when we would meet up with friends, both ones who would be boarding the Nomad Cruise and some who wouldn't. On one surprisingly rainy and floody day, we workationers had to grab a hilariously expensive Uber ride in order to avoid getting drenched. With lots of people ordering Ubers that day, it cost us about 20 euros to go just 300 or 400 meters. Whatever. We got home, and it was amusing.
Boarding the Nomad Cruise
The cruise began on a Monday. After checking out of the workation Airbnb, we arrived at the harbor to find a huge line outside the Sovereign, our home for the next 12 days. I thought it might take several hours to board. Luckily, the line was just for dropping off baggage, and I only carry hand luggage everywhere I go. It only took me about 20 minutes to board.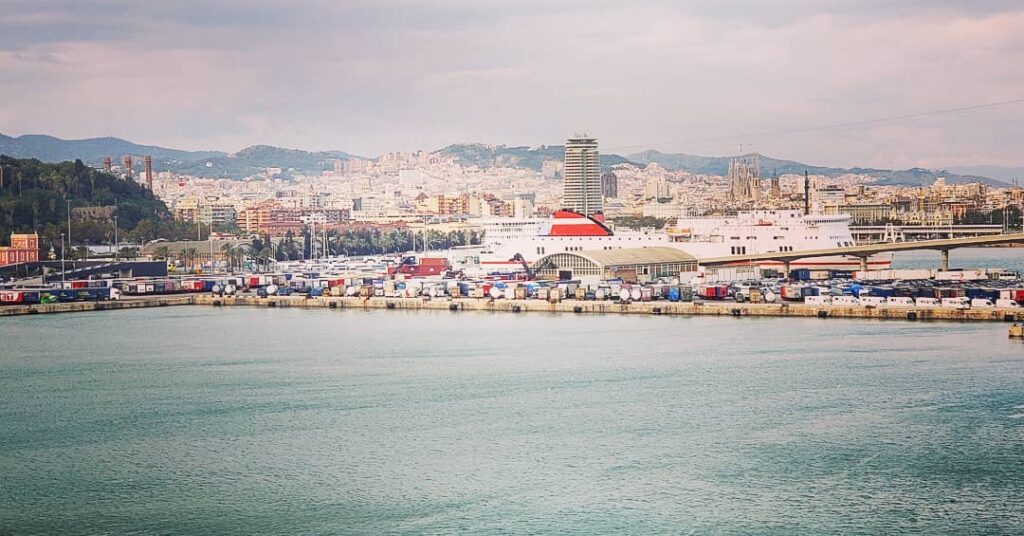 The Sovereign has a storied past. It launched in 1987 as the largest cruise ship in the world. Formerly called Sovereign Of The Seas, it is now simply the Sovereign, and it belongs to the Spanish company Pullmantur Cruises. The Sovereign is a repositioning cruise, meaning it relocates seasonally, rather than returning to its embarkation point. In the European summer, the Sovereign is in the Mediterranean, while come winter, it gets relocated to the Caribbean or Brazil. Hence, our transatlantic journey from Barcelona to Brazil.
The route to Brazil was more or less a straight shot. We had planned stops in Alicante, a Spanish port city on Spain's southeastern Costa Brava, and Tenerife, in Spain's Canary Islands off the coast of northwest Africa. Additionally, we would make a stop in Cape Verde, the archipelago off the west coast of Africa.
There were 491 nomads of 36 different nationalities aboard the Sovereign. Germans were largest nationality among the nomads, with the German population totaling about 130. I think Dutch, Hungarians and Americans followed Germans as the next largest nationalities. But a bunch of countries were well represented on the Nomad Cruise.
One nationality, though, trumped all of the ones I have mentioned. Naturally, as this cruise was headed to Brazil, there were many Brazilians aboard. In reality, the cruise was only partially a nomad cruise. The non-nomad section of the cruise was packed with Brazilians. It took us a little while to collect them all, as Brazilians boarded at different stops, but eventually more than 1,000 Brazilians hopped on the Pullmantur Sovereign. Most of these people had been visiting Europe and were using a cruise to return home. 
The Nomad Cruise is all-inclusive, meaning your meals and drinks are part of the pre-paid package. But there are options and different price points for how luxurious you want your excursion at sea to be.
I paid nearly $2,000 for a junior suite on the Sovereign. I didn't know when I purchased the suite that it got me access to the "Waves" club. This was a very pleasant surprise. The Waves club is basically the cruise business lounge on the top deck of the ship. The wifi in the club works much more consistently than the regular cruise wifi, and it is much faster as well. I ended up having wifi in the middle of the Atlantic, though it was a bit slow during that part of the journey.
The suite itself was quite nice, though it could have been a bit bigger. Still, the suite had a nice bed, a sofa and, of course, a balcony. 
My Nomad Cruise Routine
Every day, there were basically two talks and two workshops. The talks and workshops would span 10 am to 4 pm. I didn't attend any of them, except for the I talk I gave. We will get to that in a bit…
I would wake up around noon or even at 1 pm. I would skip breakfast and go straight for lunch, where I would head for the grill and eat some meat. Then I basically worked and chilled from 1 to 6 pm. 
Almost every day I organized a meetup for around 6 pm. I organized one about free private cities, one about real estate investing and one about travel hacking. I also did multiple meetups on flag theory and taxes. At one of my meetups nearly 40 people showed up.
I would hold the meetups in a bar called the 360 Bar on the top deck of the ship. The bar basically had a 360-degree view of the ship, as well as the ocean. Or, when it warmed up, we would use the pool bar for the meetups. 
Dinner was at 7:30 pm. It was almost exclusively nomads inside the restaurant where we would eat dinner. At first, the crew did not know how to handle serving nomads. Typically on the cruise you have an arranged table that you return to every day. The same waiter serves you over and over again and learns your name and how you want your food. 
But on the Nomad Cruise everyone mingles with everyone and changes places on a daily basis. It was quite chaotic at the beginning, but the waiters adapted. One got very excited when I identified her to be from Roatan – there is only one place African looking Hondurans could be from…
Dinner was a 3-4 course meal, including an entree, soup, main course and dessert, as well as wine. It would last about 90 minutes and create time and space for good conversation. Sometimes nomads planned specific topics to discuss during dinner. On one day, I organized a libertarian/anarchocapitalist dinner. Six people showed up, five of whom were anarchocapitalists. The sixth person was a girl who showed up by accident. We had a very good discussion, and by the end of the meal, she was practically converted. ?
The fun would really begin after dinner. A lot of nomads spent time at the bar — the pool bar as it warmed up — mingling and networking. Others would dance salsa (I have two left feet, if you recall). There were also a lot of games to play — with and without gambling.
I love chess and carry a travel chessboard with me around the world. There was a couple from Denmark aboard the cruise that apparently loved chess even more than me. They regularly watched the "world championship" chess tournament aboard the Nomad Cruise drawing all the internet. I played the Danish couple quite a bit. They were very good.
My favorite moment on the cruise was actually playing chess in a night club at 3 am. I was playing on my travel chessboard with a German who lives in the Philippines. We used our phones as flashlights as people danced the night away right beside us. I won. It was a lot of fun.
Getting in my gambling fix
The Sovereign has a casino, which I also frequented. The first few nights, as it was still cold outside, I played a lot of poker. The poker games would get interesting every night at 11 pm when the blinds were a bit higher. On the first day, I was quite lucky with my cards — or maybe it was my skill — and I made about 100 euros. I was not so lucky on the second day, and on most other days, I did not play poker.
As you may recall from my gambling venture in Macau, I am also a roulette player. I played roulette almost every day on the Nomad Cruise. I had a lot of luck with my magical number 23. I was mostly playing for fun, but over the two-week duration of the cruise, I ended up beating the house in roulette.
I didn't have as much luck with some other games, particularly the so-called Key Master arcade game. Key Master goes as such: you put in one euro and try to win big by using a joystick to maneuver a key into a keyhole. You get 30 seconds to do so. If the key hits part of the keyhole, rather than going inside it, you lose. If you get the key in the hole, there are bills you can receive — as much as 500 or 1,000 euros. The game looks easy, making it very addictive, but I think it's rigged because every time you are about to get the key into the hole, at the last second, it goes a little higher and hits the top of the keyhole.
Premium partying
Late at night I would typically go to the disco. My fun would usually last until about 4 am. Even though I drank a lot, I didn't end up with hangovers. I attribute this to my strategic purchase of a black bracelet. For 14 euros a day, the black bracelet gets you premium alcohol. This was good for the entire cruise, not just the night club. Rather than drinking cheap Spanish beer, I got Corona. And I drank premium brands of hard alcohol, as well. Basically I was drinking pure beverages, unlike the majority of the nomads who did not buy the bracelet.
Sleeping Through Alicante
Naturally, the first night of the cruise I really let loose and partied until sunrise. On the following day, we made our first stop, Alicante. I slept most of the day and skipped the visit to Alicante. I had already been there and wasn't too interested in the city, so I didn't mind staying onboard the ship.
Tenerife 
Upon arriving in the Canary Islands, I was ready to get off the ship and do some exploring. We had about six hours to explore the largest of the seven Canary Islands, Tenerife.
Prior to our arrival, there was a big storm. But the weather cleared, and it was a nice day for us to spend some time on the island. A group of nomads and I rented a car and drove around the island to Puerto de la Cruz, a city in the north of Tenerife. We walked around town and went to the beach. 
To the southwest of Puerto de la Cruz is Mount Teide, which boasts a more than 3,700-meter high peak, making it the highest point in Spain, as well as the highest point on all of the islands in the Atlantic. Better yet, Mount Teide is a volcano. We enjoyed some great views of this snowcapped volcano. 
We caught views of Mount Teide from Icod de Los Vinos, a foresty town that is home to the ancient dragon tree. The tree is said to be 1,000 years old. The tree is a symbol of the island.
Most of the nomads did not get to explore Tenerife like we did. A bunch of preplanned excursions from the cruise ship were canceled, and most people didn't rent a car. We were wise to have done so.
It's getting hot out here
The night before arriving in Tenerife it was still very cold. Most people were wearing sweaters and jackets when outside on the ship. After returning to sea following our stop in Tenerife, all of a sudden, the temperature was getting very warm. The sweaters and jackets were replaced by bikinis and bathing suits, as people gathered poolside. The atmosphere changed significantly. People started having a lot more fun, and the pool bar became a go-to spot in the evenings.
Cape Verde
If you didn't know, Cape Verde, or Cabo Verde in Portuguese, is actually a country. Cape Verde is an archipelago of 10 volcanic islands situated west of Senegal in the Atlantic. The former Portuguese colony would be my 115th country visited. But would I count it? I only had 7 hours to explore an entire country. And then I slept for the first two hours. Uh oh. Would I end up stuck on 114?
The Sovereign let us off in Mindelo, the main city on the island of Sao Vicente. I was planning on just wandering around Mindelo. My plans changed.
After getting off the ship, I stumbled into another German whom I had not previously met. A couple minutes later, we bumped into a European nomad who works for a blockchain company. This guy was planning on taking a tour. Then, after another couple of minutes, a taxi driver stopped. He offered us his version of a tour, and we took it.
For four hours, we drove around Sao Vicente doing sightseeing, mostly along the coast. There aren't many sights, but there are some nice beaches, as well as sand dunes and impressive rock formations. Likewise, there was a large ridge. We could see mountains towering off in the distance. Also, we could see another island that looked beautiful, but unfortunately we did not have time to visit it.
Sao Vicente is a very arid, barren island. It's basically a desert in the middle of the Atlantic. 
As was the case with Tenerife, most of the nomads didn't really explore the island. Of the 500 nomads, probably 400 stayed at the beach in Mindelo, while 100 did something different or explored the island.
A lot of nomads went kitesurfing during the stop in Cape Verde. One of the Sao Vicente beaches is a popular kitesurfing destination.
A little while before the cruise was due to depart Cape Verde and head directly to Recife all the way across the Atlantic, I decided to embark upon a last-minute adventure. There was an old fort on a hill above a popular beach and Mindelo's port. Down below the hill, I walked by a restaurant, where I found a good friend of mine sitting and eating a pizza. I asked my friend and some other people he was with to climb up to the fortress with me.
We only had about 30 minutes before the ship was departing. The group agreed to come with, but when they saw how far away the fort was they turned back. Still my friend joined me, and we risked it, climbing up over some rocks and through the gardens of houses as the clock was ticking. 
We made it up to the fortress, Fortim d'El Rei. The fort was initially built to provide defense for the port, but it ended becoming a prison. Fortim d'El Rei stopped functioning as a prison in 2011 and is now abandoned. The fortress is almost completely destroyed. But when you walk around its ruins you get beautiful views of Mindelo, its bay, the ocean, and the neighboring islands. 
My friend and I snapped some photos and then hustled down the hill… or tried to. We were heading down a mostly gravel hillside, which made it more difficult to get down than to go up.
Just in time, we made it back to the Sovereign. Country 115 complete. 
I counted my five hours in Cape Verde as a country visit mostly because of the fortress adventure. Nonetheless, I did get somewhat of a feel for the country. Cape Verde ranks well among African countries in ease of doing business, but the island nation is very undeveloped. Still I liked it. I will probably return to Cape Verde and visit some more of its islands.
Talking taxes
Following Cape Verde, we had five days at sea prior to reaching Recife. I had a lot of fun during the first few days in the middle of the Atlantic but also used a chunk of the time to prepare for and take an exam that, upon passing, made me a certified professional in the field of establishing and administering foundations. The certificate is issued by STEP, a global association for professionals in the wealth management sphere. It's basically the offshore mafia, as its the most important association for tax lawyers and trust practitioners.
Coincidentally, I would be speaking about wealth preservation — tax-free living — in my talk that was scheduled for the second to last day of the Nomad Cruise. 
Several things did not go smoothly with my talk. They were all matters out of my control. For starters, it was at 10 am, so I actually had to get up that morning. Normally, I am not able to speak properly before 3pm. Then it so happened there was a rescue drill for crew members taking place right when I was supposed to speak. Orders were being blasted out over the ship loudspeaker, so I had to wait for things to quiet down.
My talk was only 20 minutes, yet close to five minutes got wasted because my PowerPoint presentation was not compatible with the Apple computer that was hooked up to the projector. I ended up using an old presentation, rather than the new one I made for the Nomad Cruise. 
Despite all of this, my talk went very well — too well. I had a lot of fun cracking jokes about flag theory concepts. The funniest thing I probably said was to get a Brazilian girl pregnant, have a child in Brazil, stay in the country for one year, and then pick up your Brazilian citizenship. It works like a charm. 
I say the talk went too well because it changed the entire course of the cruise for me. After the talk, I was mobbed by people approaching me for tax advice. Prior to my talk, the cruise was very relaxing and a great way for me to recharge. Not so after I spoke about tax-free living, obtaining Brazilian citizenship through sexual relations, and so on.
What the Nomad Cruise is really about
As much as it is great fun to party and game and gamble and chill aboard the ship, the Nomad Cruise is really about sharing ideas and skills. This was part of the reason why I was destined to make it aboard. I have ideas and skills that I can share and that other nomads demand. With that said, I still choose to skip most of the workshops and talks in favor of partying, gaming, gambling, chilling, etc. And that good fun, coupled with the friendships and connections I make while onboard, is why I expect to be nomad cruising again before too long.
P.S. If you still need tax help, you can visit tax-free.today