Note: This is the second installment of a three-part series on my trip to North Korea. As you may guess, this post will focus on exploring North Korea's outdoors. To see what is is like to walk across a bridge connecting China and the DPRK and to have face-to-face interactions with North Korean schoolchildren, read Part 1.
Let's go to the beach!
Departing Chongjin, we headed south by bus along the coast to North Korea's Mt. Chilbo area, which would be the focal point of our exploration of North Korean nature. Along the way we stopped at a cliff and descended down a flight of stairs to a day of fun at the beach.
We walked on the beach for about a kilometer. What really struck me about this area was the water. It was very clear — so clear it was practically unreal. Almost never before had I seen such clear water, and I spend a lot of time in and around water — examining marine life, dodging crocodiles etc.
The coastline in this area was very rocky. People sit on the rocks and walk across a steel bridge that connects a walking path on the coast with boulders that jut out of shallow water. I crossed this bridge and ended up with a slight surprise.
The bridge had just been painted, or maybe oiled. I didn't know. As I walked across, I was grabbing the rope on the side of the bridge. Some guys tried to warn me, but it was already too late. My hand was covered in black paint or oil. I don't really know what it was. But it was sure hard to get rid of.
The bridge leads to a pavilion atop the rocks jutting out of the water. Though it wasn't that high, it made for a good lookout point. First, there was a great view of the steep cliffs along the coastline and some beaches off to the sides. Better yet, there were fishing boats in the area, and we could watch people fishing and photograph them.
There were also some fishermen standing or sitting on the rocks and tossing their lines in the water. Kids were joining in as well, trying to demonstrate their fishing abilities.
And there was one old guy who was sitting on the rocks. For some reason I remember him vividly. Here is my photo of the old man:
Singing for Kim Jong-un
Our North Korean playa time was over, and we were back aboard the bus, continuing south, driving through flatland where we saw a lot of agriculture. We passed by some type of rock formation that was tall and thin and kind of looked like a monolith.
Before long, we stopped for lunch, already quite close to Mt. Chilbo. It was time to learn about Mt. Chilbo, or possibly some other mountain…
Mt. Chilbo, or Chilbo San (as is the case in Chinese, "san" means mountain in Korean) is the "mountain of seven hidden treasures." Chilbo literarily means seven treasures. Legend has it that there are seven hidden treasures buried in the mountain. As far as I understand, Chilbo is the second most important mountain region in North Korea. North Korea's most important mountain is in the far north on the border with China. It is called Mt. Paektu. We didn't visit Mt. Paektu, but we still sang a song about going there — repeatedly.
"We Will Go to Mount Paektu" is a famous North Korean song that some outsiders say serves as propaganda for the current DPRK leader Kim Jong-un. We learned the words to the song and were constantly singing in Korean, "We will go — we will go — to Baekdusan" (Mount Paektu), even when we were heading to Mt. Chilbo.
That was for shits and giggles.
Mt. Chilbo was for real. The mountain is known for its big green hills and otherworldly nature. The scenery is very impressive, and we had the opportunity to explore it on multiple hikes over two days.
Day 1 on the mountain
Now on Mt. Chilbo, we started hiking back in the direction from which the bus had dropped us off. We carried on, and at some point reached a Buddhist monastery. Yes, there are Buddhist monasteries in North Korea. Even though it is an atheist state, the DPRK has preserved ancient buddhist temples.
At this monastery there was a monk walking around. We saw him go into a temple and pray to Buddha, presumably. We quickly visited the temple and took some photos.
Then we continued on to a viewpoint. By then we were walking in and around incredible rock formations. There were formations of different shapes and sizes and designs, and they were naturally adorned with beautiful colors and vegetation. Especially because it was autumn, there were very nice colors: red, green, orange, yellow.
After stopping at the viewpoint, we walked down through more rock formations. As the sun was setting we wrapped up the hike and returned to the bus. This wasn't a very challenging hike. It was more of a pleasant walk through some really beautiful nature.
Back on the bus, we drove over mud roads for a little while and reached our destination — the one-of-a-kind North Korean homestay village.
The North Korean homestay
Things are a bit orchestrated in this village. I'm not going to say this gives you a great impression of what is is like to live in a typical North Korean home. Rather, this is a very centrally planned version of homestays (some say it is the North Korean version of Airbnb), with an entire village devoted to nothing but homestays. Families are moved into the homes in the village on a temporary basis just to host the tourists.
Nonetheless, I spent two nights (though one got a bit blurry…) inside a North Korean home living with a North Korean family. So I did get a pretty intimate picture of life in North Korea that the average foreigner on a trip to Pyongyang does not get to see.
The village is basically a complex of about 25 houses. The homes are actually very nice — at least on the outside. They are large stone houses built in Korean-looking style and are surrounded by beautiful nature — trees with an array of colors. Again, it probably is a plus to come in autumn. The village is also right by the coast. These homes are probably not representative of North Korean living as a whole.
Being on the inside paints a different picture. It's not very impressive. Some of the homes have mattresses on the floor, rather than beds.
The hosts do not speak any English. You can talk about them in English right in front of them, and they won't understand what you are saying. Unlike with the English-speaking schoolchildren (Part 1), there is no need to teach the hosts about your home country.
Basically, the hosts open the door and lead you upstairs to your room and that is the conclusion of their duties. They don't cook for you, and you have very little contact with them during your stay in "their home."
My guess is North Korea exchanges the families in this village every week or two. The families are probably just sent to the village to host tourists as they come. It's mostly Chinese tourists who stay in these homes. But some westerners also use the homestays.
Binge drinking in the DPRK
The first night in the homestay was a bit of an anomaly for me on the tour. Most nights of the tour I spent in my room reading books and getting rest. This night I devoted to drinking.
We were at a restaurant in the homestay village. Most people left after eating. I stayed with a British guy and an Australian guy. We were drinking beer and soju (remember that clear hard liquor I was drinking in the Chinese border town of Tumen?). We drank and we drank.
In the end were just the Australian guy and me at the restaurant. I drank more and more and more. By the end of the night we easily downed 20 beers and 2 or 3 liters of soju. 
I was sufficiently drunk, but I wasn't ready to go home. I really wanted to approach the two North Korean waitresses at the restaurant. They looked very sexy in their uniforms. I wanted to take them home and date them. But it was very hard to convince them. They didn't speak English. Also, my lack of sobriety may have been a factor, I admit. Things could have turned out badly. They didn't. I was exhausted, and I went to my homestay and slept.
But would I wake up in time to hike Mt Chilbo?
Beauty
Getting up the morning after binge drinking in a North Korean village proved to be quite a challenge. I would wake up and fall back to sleep. We had a guided Mt. Chilbo tour scheduled for the day. I wanted to skip it. I was hungover, and I figured the tour would be just like the previous day's hike on Mt. Chilbo.
Luckily, the North Korean tour guide came into my room and woke me up just as the group was about to leave. I threw on some clothes and joined them. It was a good decision.
Before venturing on a rather memorable hike, we visited a waterfall. Actually we hiked to the waterfall. We walked through a gorge near the coast, going uphill for about 15 minutes and then reached the waterfall.
On the way back from the waterfall, we spotted a man rock climbing on a steep cliff. He was dangling off this cliff with ropes tied to him and was trying to get up to the top. Apparently rock climbing is a sport in North Korea. Another thing I didn't expect.
For our main hike, this time we went to a different part of Mt. Chilbo that is closer to the coast and has a beautiful natural arch. The bus brought us there, even though we probably should have taken a 4-wheeler over the mud mountain roads.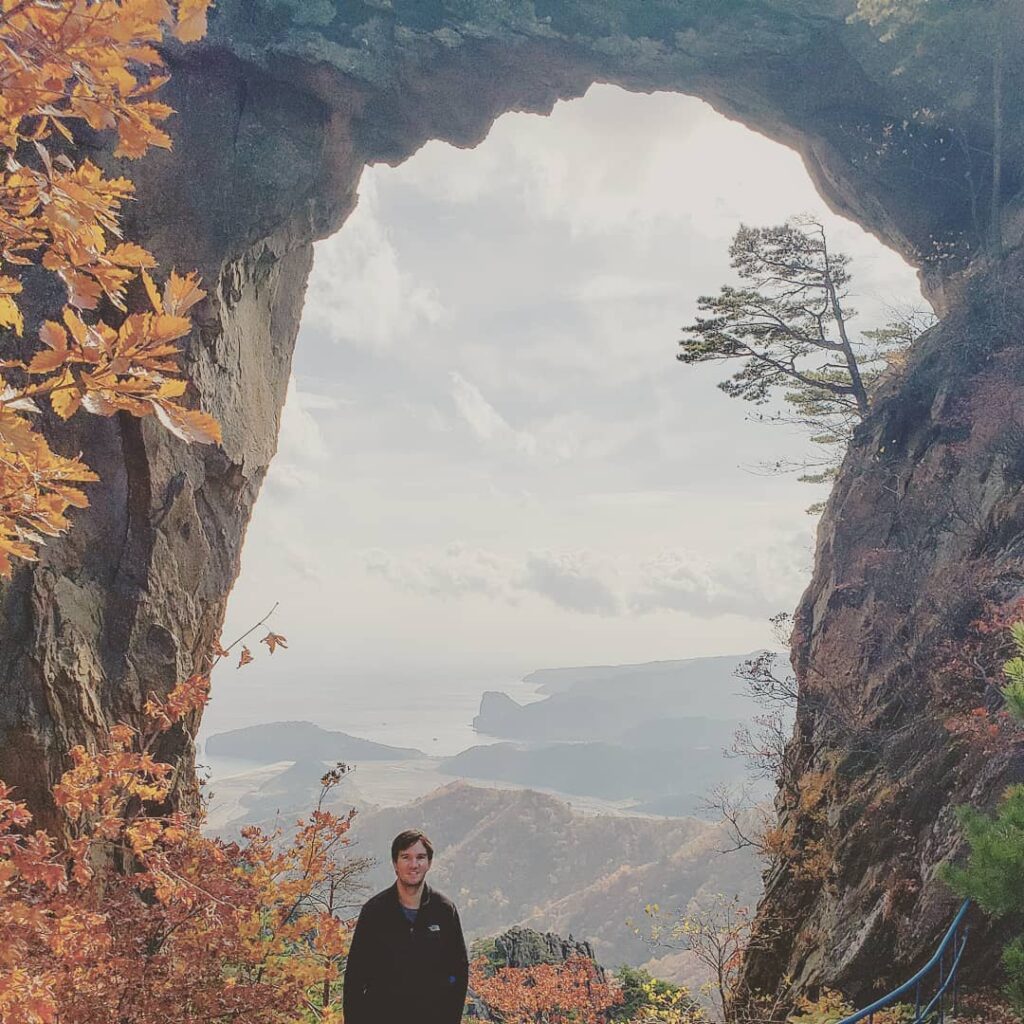 We hiked about two hours up and one hour down. We hit a lot of viewpoints along the way. The highlight of the Chilbo hiking was the arch, which is covered in green trees, as well as shades of orange. Looking down through the arch there is a view of the coast — the sea and the rocky cliffs along its edge.
Still, there was so much more to this hike than just the arch. The colors on the mountain and the rock outcrops are really incredible. And the hike included more coastal views, as well.
During the hike, We were allowed to walk at our own pace. I had a lot of time to myself. But when I wasn't taking in the beauty alone and introspecting, I was walking with the only Korean member of our tour group. Obviously, he wasn't North Korean. He was South Korean, but traveling on a Canadian passport. He had been living in Canada for a very long time, but he could still speak Korean. This was a big help throughout the tour, as he basically served as a translator, allowing us to communicate with the local people.
I had a very good talk with this Korean guy as we walked on the Mt. Chilbo trails. Like me, he too, is an entrepreneur. We talked about life and business. He also shared with me his impressions of North Korea, as a South Korean. Apparently, it was a very interesting experience for him to be in North Korea.
During my trip earlier this year to Antarctica, I was in close quarters with a South Korean-American. We shared a room and had many conversations. I find that I get along quite well with Koreans.
More fun in the sun – DPRK style
Following the hike, we returned to the homestay village, chilled a bit and ate lunch. Afterward it was time to return to the beach for a boat ride. In style, we ventured out to sea in a boat with local fishermen. The ride was pleasant, and we could look up at the mountain, in addition to the cliffs along the coast. This is the kind of activity and serenity that one does not typically associate with travel to North Korea.
Back on shore, we broke up into teams and played a beach volleyball game. As it was with sports with the school kids, the teams were mixed with each one consisting of both tourists and North Koreans. My team won. It was quite exciting to have played both soccer and volleyball with North Koreans.
There was one more sport, though, that I did not take part in. It was probably even more exciting — North Korean beach wrestling. Basically what happens is the two wrestlers are tied together at the hips with a rope. Then they need to bring the other guy down to the ground while staying inside a small ring. One of the guys in our tour group was very eager to wrestle. He wrestled a bunch of times on the beach and actually defeated the North Korean wrestlers.
Back in the village, we ate dinner. I skipped out on drinking and didn't stay very long at the restaurant, opting to go to bed early due to my alcohol consumption the previous night.
Last look at North Korea's rural northeast
The next morning it was time to depart the Chilbo area and head for Pyongyang. This leg of the journey was more exciting. We were flying!
But first we had a bus ride to Orang. Yes, Orang. It is a county in northeastern North Korea that has an airport. On the way to Orang we stopped at another waterfall. This was a small one, but it was actually nicer than the waterfall we visited in the Chilbo area the day before.
We stopped again for a break and a quick snack at some lakes near the coast. One of the lakes apparently is famous for having a lot of fish. This was the only occasion during our time in the north that I saw other tourists. There happened to be a van carrying Germans that stopped at the lakes at the same time as us. They were on a tour of the north. We chatted briefly with the Germans, then headed for the airport.
My domestic North Korean flight
Visiting the Orang airport was a very interesting experience. The airport was built by the Imperial Japanese Army and used by the United States Air Force during the Korean War. The airport is now controlled by North Korea's army, but it is also used for some commercial flights. Once or twice a week, there is an Orang-Pyongyang flight, which is one of the very few domestic flights in North Korea.
So what is this airport like? First, you walk into a building where lots of people are standing and waiting to check in. After checking in, things get chill. There is a lounge — that looks more like a living room — where you can sit and wait for boarding. We sat in the lounge, where we could get some last minute snacks and even alcohol before departing for Pyongyang.
When it was time to board, a bus collected us and drove us to the plane. Off we flew on a North Korean domestic flight that was so luxurious it even had business class. Were you expecting that??
There were a bunch of families flying with us. Lots of North Korean families from outside Pyongyang want to go to the capital. We wanted to go there as well.
Parting thoughts on Mt. Chilbo
I feel privileged to have explored and hiked Mt. Chilbo and to have spent time on surrounding beaches and out at sea beneath the mountain. The area is definitely rich in natural beauty, and it is visited by very few westerners — only about 200 a year.
Welcome to Pyongyang…
And then we landed in Pyongyang. We arrived without any major hassles, made it through a passport check and headed into the city, which you can read about in Part 3…