As a perpetual traveller, the start of every new travel adventure is almost always intertwined with the ending of another travel adventure.
Sometimes, I even manage to make the in-betweens and layovers noteworthy as well. Such is the case of my layover in Paris, the prelude to French Guiana.
This story begins in Munich, where I'd just flown into for a night, on my way to Paris. I was coming from Etic (Extreme Travelers International Congress) in Azerbaijan.
Now you're probably wondering about that trip, don't worry, that story's coming on its own [well deserved] post… soon.😊
From Munich, it was a short flight to Paris. As you know, I usually travel carry-on only. This time, however, I was checking in a 70 lb duffle bag. It was super heavy, yet absolutely worth it! The bag was filled with goodies for the boat.
Initially, another guest coming on board was taking the supplies to French Guiana (FG). However, the deliveries didn't make it on time, and they had to be forwarded to Munich to another friends house for me to grab on the way. 😅 #trialsandtribulationsofaperpetualtraveller
The best flight options to FG were from France since French Guinea is the same country if the name didn't give it away. I was excited to be on one of the longest domestic flights in the world.
It turns out the only flights from Paris to FG depart from Orly, while the only flights from Munich to Paris depart from Charles de Gaulle, forcing me to have a stopover.
I decided to make the most out of the layover and spend an entire night in Paris.
I'd been looking forward to coming back to the "city of lights". Before this visit, I'd only been to Paris once. If you're a long time follower, you probably already know about my class trip to Paris; if you don't, be sure to click on that link! Spoiler Alert! I was 19 and on a senior class trip!
My much awaited return to Paris
I was looking forward to my visit to Paris, even on a semi-brief layover. If you know the story of my last visit, you know why I'm so fond of the city and why I was so excited to go back! 😉
It had been a little over ten years since I'd last seen the Effiel tower. I'd actually never been up the Eiffel Tower. So, ever since, I've wanted to go back and conquer the tower.
That was my main objective during my time in Paris.
I stayed at a great hotel near the Arc de Triomphe, Le Metropolitan, my room had some pretty iconic views of the Eiffel Tower. I checked in, took some pictures, worked a bit and then set out to explore the city once again.
Sadly, it was a pretty shit day in Paris. It was grey and rainy, and there was a storm brewing. This meant the top of the Eiffel Tower was closed to the general public…
My main goal was off the table. Luckily, there are lots of things to see and do in Paris, so I still had a good time.
A shitty day in Paris still makes for a great day
I walked around to nearby sights like l'Arc de Triomphe. There was some sort of installation covering it. I learned it was a homage to the artists that had started the art piece "Arc de Triomphe, Wrapped", back in 1962.
The artists were Christo and Jeanne-Claude and they passed away in 2020 and 2009 respectively.
For the installation, The Arc de Triomphe was wrapped in 25,000 square meters of silvery blue, recyclable polypropylene fabric, and with 3,000 meters of red rope. This instalment is considered to not only be one of the greatest works of public art displayed in 2021 but also of all time.
L'Arc de Triomphe, wrapped was only on display for 16 days, until 3 October and like all their earlier works, will never be shown again. Apparently, it was a monumental endeavour, the wrapping took 1200 technicians two months to complete.
I didn't think it was very impressive but glad to have witnessed art history in the making in Paris. A very fitting #Paris experience.
I took some photos and walked along Champs-Élysées for a bit, had a burger at 5-guys, and continued a long walk along Le Seine making my way slowly towards the Eiffel tower.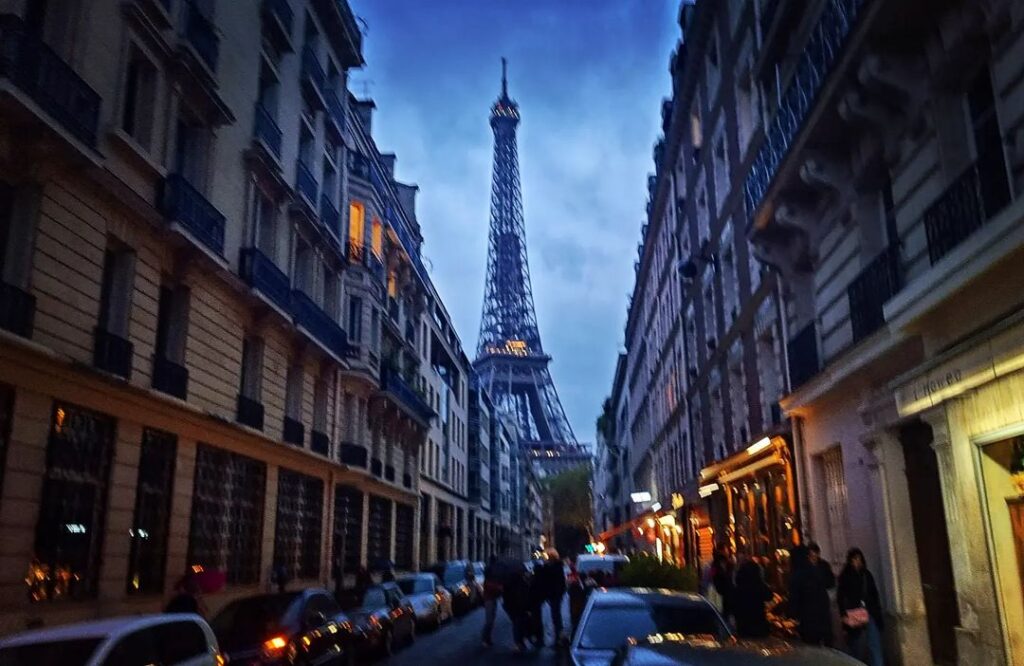 I booked a private escort to walk me into the tower as a VIP. As mentioned before, there were some big winds brewing up a storm, so the very top part of the tower was not open to the public.
Fortunately, the other two levels were still open, so that's where I went. By the time I arrived at the Eiffel Tower, the sun was just starting to set. Perfect timing to really take in the "city of lights".
Despite the stormy weather, the place was pretty crowded. I mean, I get it, I really enjoyed the turbulent views from the top. You could really see the wind carrying the rain across the city.
Actually, the wind was so strong some people got blown away – really blown over by the wind. Luckily for them, there are fences that prevent humans from going over and falling to their deaths.
I wasn't moved by the winds and just went about my business, walking along the two open levels. Enjoying taking in the sights and taking lots of pictures of the city of lights in full (-ish) splendour.
Moody weather and Paris still make for great photos
After getting my fill of the Eiffel Tower, I walked back to my hotel looking for a restaurant to go to for dinner. I found a nice looking one, tried to go in, but I was turned away for not having a reservation.
I kept walking and found a spot just a few streets over, really close to my hotel. It was Asian-French fusion cuisine and it was absolutely fantastic. It was called the Golden Spoon, and if you're ever in Paris, you must check it out!
After dinner, I opted for going straight back to my hotel, without any further adventuring – No Moulin Rouge this time around – It was just too cold and wet, no pun intended. 😉
The terrible weather made me ok with spending the evening relaxing and preparing for my 9-hour flight the next day.
Next up: taking the longest domestic flight in the world
The next morning was pretty uneventful, I got to the airport in good time to check in the duffle bag. For a 9-hour flight, the obvious choice was first class, which actually worked out great since the fare includes checked-in luggage. #travelhack 😉
French Guiana 101
As mentioned briefly, French Guiana (Guyane or Guyane française) is a territory of France in South America, and as such, it is governed as an overseas province of France with the same rights and privileges granted to all other French departments. The land is sandwiched between Suriname and Brazil with the Atlantic Ocean bordering the north.
I will do some tourism around the land but mainly around the islands which were first settled by the French in 1604. French Guiana was the site of notorious penal prisons known as "le Bagne" which functioned from the mid 19th century until 1951.
The most famous of which is Devil's Island. Henri Charrière wrote his tale "Papillon" about an escape from here. The European Space Agency also launches its communication satellites from Kourou.
Frun Fact: French Guiana is the only portion of mainland South America still governed by an overseas nation.
Arriving in French Guiana
The flight was around 9 hours and there is a 5-hour time difference between French Guiana and France. I boarded my flight at 1pm and made it into French Guiana at 5pm.
The process of getting in was pretty easy as a European. Citizens of the EU can visit, stay and work visa-free for an unlimited time. However, as of right now, only fully vaccinated travellers can enter French Guiana even from the EU.
First impressions
My skipper Josh had been waiting in FG for me. He came to pick me up at the Cayenne airport and we drove straight to the boat, which was located in Kourou. It's the city that hosts the Guiana Space Center, a European Space Agency spaceport, it has a rocket launch site and space museum on site. The city's around 1-hour drive from Cayenne.
Because we left straight to Karou, I didn't really have a chance to see much of Cayenne, the capital city. Didn't even get a feel for the size and energy of the place. I would have liked to explore more considering it's a 17th-century town, which I've heard blends influences from France, the Caribbean and Brazil.
Moreover, I arrived on a Sunday in the middle of a strict lockdown. Even if I wanted to, there wasn't much to see or do in Cayenne.
The lockdown included a very strict curfew and you could just move with your car from the airport to your residence, everything else was closed.
Even during weekdays, all the restaurants, bars and everything else were also closed. You could still move about only pick up takeaway services.
The severe measures are in place because FG has a much lower vaccination rate than mainland France. The island is having a really hard time with COVID, and politically. I was told that even people in the administration, the creoles, don't want to be vaccinated.
As punishment, France imposed a very strict lockdown during tourist season. I must say, as tourists, it didn't bother us too much. We were spending most of our time on the boat anyway. As long as we could go shopping in the supermarket we were good.
Actually, the supermarkets there were really nice, pretty much the same selection and availability as you would find in mainland France. The only caveat, prices were not South American, everything was very very expensive. Average shops in French Guiana have the prices of the most expensive parts of France.
Josh was actually not very prepared for that, he had spent a long time in Brazil, where everything was really cheap, so it was a bit of a shock arriving in FG. He had mentioned it to me, and I got to experience it first hand as we did the shopping for the coming days of sailing. Everything was about 2x and even 3x what it should be.
Reunited with the Staatenloss
After an hour drive, we finally made it to Karou, it was just about getting dark. The town doesn't have a proper marina, it's just like a pontoon of the water. You need to have a dinghy to get to and from the boat.
I was very happy to be back on the boat, getting to meet the whole crew, old and new faces. It was all super nice. Onboard we had Josh, his short-term girlfriend, another German guy and his Brazilian girlfriend. This guy is an electrician we met in Brazil who had been on the boat since May.
He boarded in Brazil and did a lot of work on the boat. He's also a great cook, which was an added bonus.
We had a nice welcome dinner on the boat, had some drinks and then to bed early because we had a big day the next day. I had a busy day working, exploring and provisioning for the upcoming sailing trip around FG.
All that and more on my next post.