This next saga is all about the month I spent land-bound and crossing borders all over Europe. This first installment recounts my time road-tripping from Switzerland to Germany through Italy and Austria.
We begin after my most recent time in Montenegro. Side Note: While I stayed on land; the Staatenlos remained in Montenegro for 10 days after I left. It then embarked on its journey to Spain by sea. We reunited in Mallorca approximately three weeks after that.
In the time it took my boat to sail to Mallorca, I managed to visit Sicily, Sardinia, Lampedusa, Switzerland, Liechtenstein, and Germany… It was a lot, and it was awesome! Crossing so many borders in such a short amount of time was like living life pre-corona.
Toeing the line and divine timing
The road trip was to start in Switzerland, and I was supposed to be flying in from Montenegro, which was already classified as a "high-risk" country at that time. Keep in mind I wanted to avoid quarantine at all costs, so the best (and pretty much only) option was for me to fly from Montenegro to DBK in Croatia.
Coming in from Croatia would help me avoid any quarantine requirements upon arrival in Switzerland. To my luck and sense of timing, Croatia was still allowing transit flights at that time.
I made it to Switzerland in just the right time. It turns out, the same day as my arrival, Switzerland declared mandatory quarantine for any passengers arriving from Croatia, Austria, and Germany.
If you've been following along, you know my timing during this pandemic has been pretty much perfect; some may even call it divine. I've managed to miss lockdowns by hours, all the while staying ahead of the herd and ever-changing regulations most of the time.
For this trip, I rented a nice convertible; I picked it up just after landing in Switzerland. I must say, the fact that it was a nice convertible was a smart addition to my trip, as I traveled far and wide visiting friends and clients all over the territory.
Most of the time, the weather was gorgeous. I experienced some of the most breathtaking mountain passes in Switzerland, Austria, and Germany.
I spent approximately a week touring from Zurich to Nuremberg, where I attended a TCC meeting and presented at another conference… I digress; I'll tell you more about that later.
Zürich, Ticino, and Campione d'Italia
On my first night in Switzerland, I had a lovely time with Olaf. He's a good friend of mine; a PhD, MD, and many other letters. He is also part of some interesting foundations in Liechtenstein. During the evening I spent with Olaf and his wife, we enjoyed a delicious BBQ and wonderful conversation. They hosted me at their home in Zurich.
The following morning, I began my journey and headed to Ticino, my first stop. I had previously visited Ticino when I was studying in Konstanz, a town in the south of Germany. Ticino is an Italian-speaking town about three hours from the Italian border. Despite not having much leisure time, I wanted to see this town again, so I decided to go for it and spend the day there.
Ticino is the only region where Italian is the sole official language. This area pretty much signifies the bulk of the Italian-speaking region of Switzerland and some southern parts of Graubünden. Ticino is the southernmost region of Switzerland, bordering Valais to the west, Uri to the north, Graubunden to the northeast. The Italian regions of Piedmont and Lombardy are it's border to the south. However, I was most excited about the fact that this area surrounds the small Italian enclave of Campione d'Italia.
Naturally, my next stop was Campione d'Italia.
As mentioned above, because Switzerland surrounds it, Campione d'Italia is a province and Italy's enclave in Switzerland. The town has been famous for being a tax haven in the past. During its golden age, the area was also home to the largest casino in Europe at the time: The Casinò di Campione.
This casino was the largest employer in the municipality up until its closure in 2018. Unfortunately, due to bad management, the casino and town are now quite empty. Don't get me wrong, Campione d'Italia is still a great place to live if you are looking for tax advantages; it's just not what it used to be. The hotel I stayed at that night was still in Switzerland, but I could walk to town and enjoy views of the magnificent Lake Lugano with no troubles.
The following morning, I got up nice and early to start making my way back north. I was on my way to visit my friend Paul and his family, and they'd just recently relocated to Flims, Switzerland.
Along the way, I made a stop at a popular viewing point. From there, I was able to take in majestic views of Lake Lugano. Even though the weather was overcast, I was still able to capture some splendid images and experience beautiful views expanding from Lake Lugano all the way up to Lago Majora.
You can either hike or take a cable cart up to the viewing point -I went up and down with a cable cart 😎. The first sign of COVID paranoia I experienced since arrival was actually during that cable cart ride since you had to wear a mask to ride.😷 Other than that, everything was business as usual.
Actually, up until that point (even in Switzerland), there were no masks at all, including places like gas stations and supermarkets. Unfortunately, that has all changed by now. Back then, I managed to just miss the paranoia once again.
Grabünden, Flims and St. Moritz
After making my token-tourist stop, I continued onwards through some stunning and winding mountain passes. I had a delightful time driving through Ticino all the way to Grabünden. Grabünden is one of the only places in Switzerland I had already been to, but I hadn't explored it thoroughly enough.
This whole day was wonderful; I had a really nice time, basically wasting the day away, driving through some world-class mountain passes; and at night, spending some quality time with friends. My first night in Switzerland I spent it in Flims. I had previously spent time here with family on a ski holiday 15 years back. I don't really remember much from that visit.
As it turns out, thanks to Corona, Paul, and his family relocated to Flims, making this the perfect time to have a visit with a good friend, his wife, and their son in a new-ish place. This family is extra special to me; I was the one who introduced them, this one time in Panama… -and now, they have a little boy! How cool is that?!
During my brief time in Flims, I also managed to meet with a consulting client. The next day already, I hit the road to St. Moritz, a town I consider rather mundane, yet somehow it has managed to become popular among jet-setters.
While there, I played the part and stayed at a super fancy hotel, the Gran Hotel Suvretta House. Needless to say that this high-end establishment was rather surprised when I showed up with my backpack and in my well "traveled" attire. Either way, they still provided excellent service and were extremely friendly.
I really enjoyed my stay there. I was quite excited their spa was open. I normally have a massage every few days, but it had been about five months since my last massage. I had a massage in the morning (both the spa and the massage were excellent) and toured around St Moritz. I did a little shopping, which I normally don't do, but I would be spending some time in colder climates, and I'd lost my coat. So, I shopped for a few warm pieces and a jacket.
After, I went for another drive and toured down another mountain pass. I went from St. Moritz to Poschiavo, an Italian-speaking town in Switzerland, very much in the south. I drove all the way down, basically right to the Italian border and then back up to St. Moritz. That evening I had some consulting calls and, after, a date who I invited to dine at one of the many lovely hotel restaurants.
In the morning, I returned to the hotel spa for another wonderful massage. I also had a four-hour interview with a German journalist who was eager to meet me on my boat, but it hadn't worked out. I decided to invite her to come to meet up and the Gran Hotel in St Moritz. The interview consisted mainly of questions about my lifestyle and the tax-saving aspects of my business. Stay tuned for the release!
Davos, Val Mustair, Tyrol and Rechensee
The next day, it was already time for me to move on, and I headed to Davos. I enjoyed taking detours through the mountain roads and never took the most direct path to my destinations. The roads that lead to Davos are part of yet another amazing mountain pass, the Berninapass.
In Davos, I met another friend who was visiting from Zurich and two clients who came to town just to meet with me. The night I arrived, I met up with my friend and had breakfast with my clients the next day. I stayed at the Hard Rock Hotel in Davos and had a pretty nice time walking through the town and mountains.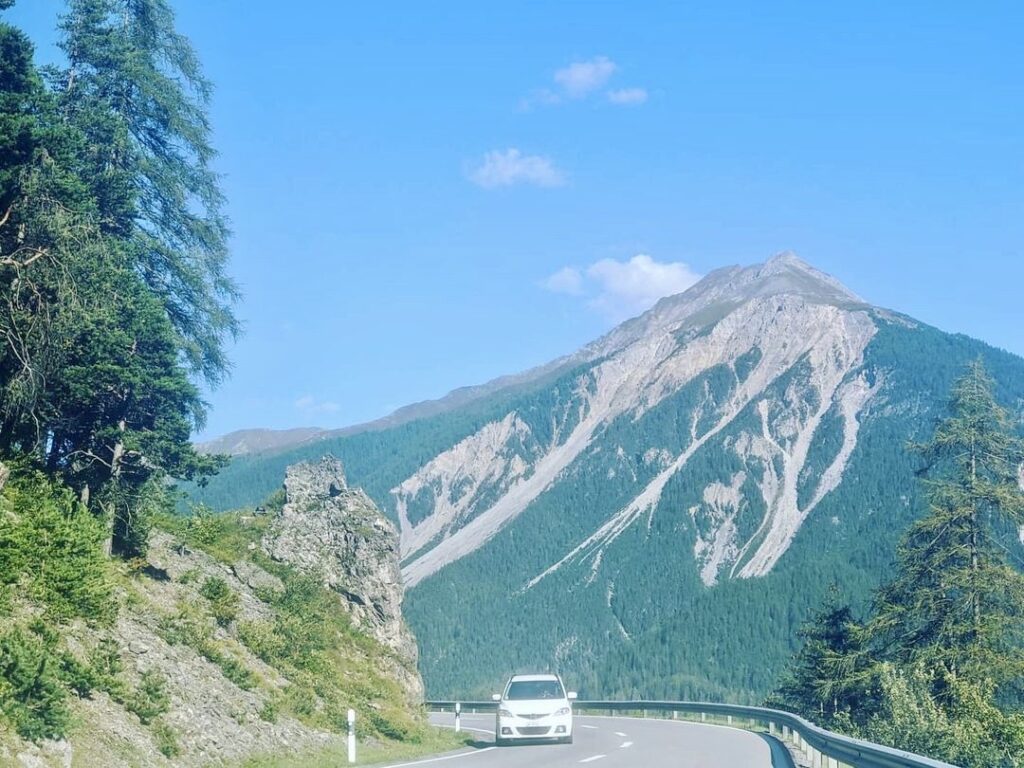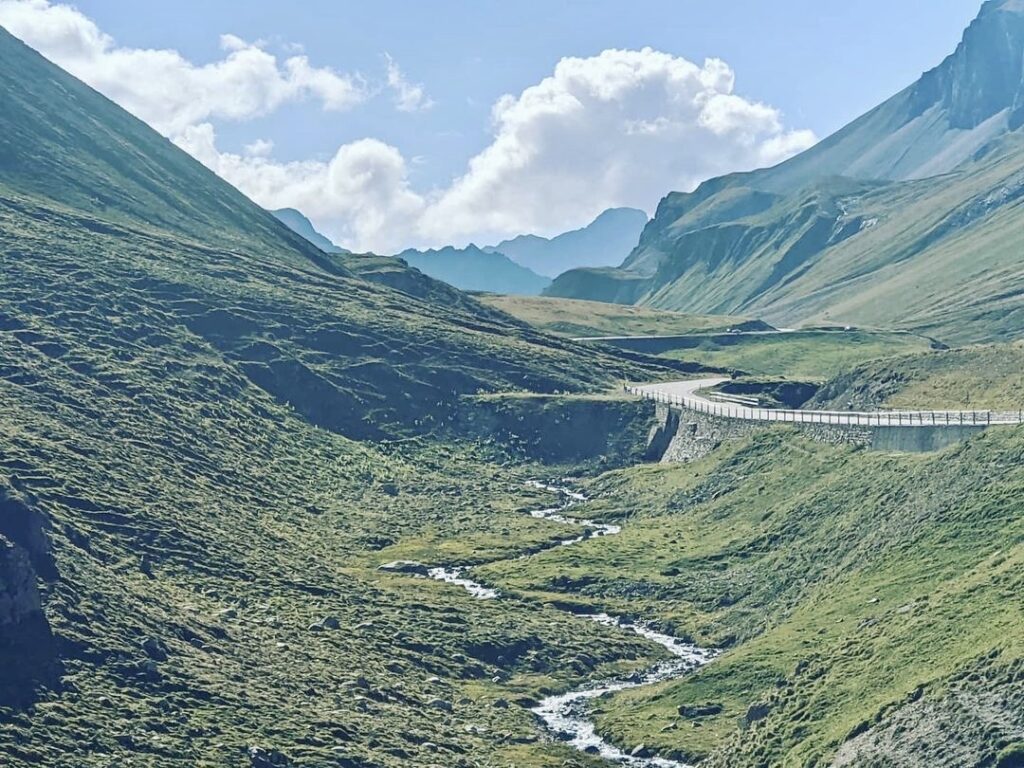 I always tried to take exciting and interesting mountain passes during the trip. My convertible took me from Davos through the Swiss national park to Val Mustair. This is another Roman speaking area, and the town is fluent in German, French, Italian, and ancient Roman. Here I was meeting more friends from Italy, and it was easy for them to cross the border.
I arrived in Val Mustair early, so I decided to take on another detour. I went through a mountain underpass that goes into Italy. One of the highest mountain passes in the Alps (10,000feet), I was able to take in some breathtaking views of Olten. Up and down the mountain, I went on one of the coolest drives of my life. Eventually, I ended up back at Val Mustair for a meeting in the evening.
The next morning, I continued to drive by South Tyrol on my way up to Austria. This was a pretty straightforward drive since I only had two more days to reach Nuremberg. I did make a stop in Lake Reschen, an artificial lake in South Tyrol (Italy).
The lake is famous for its sunken village; the town was flooded to create a reservoir. The steeple of a submerged 14th-century church peeks out above the water; when the water freezes, the church can be reached on foot, truly a must-see tourist site.
After a consulting meeting on the way, I continued to Austria. There is no tangible border, so within a few hours, you simply are in Austria. Thirty minutes after entering Austria, I encountered a massive traffic jam. Instead of sitting in traffic, I decided to check out a mountain road that could also be used to reach my destination.
To get on this road, I had to drive back almost all the way to Val Mustair; I took the road to Murren from there.
Murren, Umhaussen and Nuremberg
I had a brief stop in Murren; after some lunch, ice cream, and photos, I was back on the road. I headed north to Timmelsjoch, an incredibly famous mountain pass for motorcyclists. The pass closes after sunset; luckily, I was able to make it just in time; I was one of the last cars to get through that evening.😅
The pass was very cool! It's actually the highest altitude border between Italy and Austria. On the other side, the road continues down to Solden. There is a 20€ toll to use the pass, but it's worth every penny. The alps were snow-capped, and there were no other cars around. It all set the scene for a great experience and some stunning views.
After Timmelsjoch, I continued north to Umhaussen. The hotel there had strict COVID-19 rules, probably because Vienna was already a risk area then. I spent a total of one day there, there were famous waterfalls in Umhausen I wanted to experience, and I was really looking forward to some more time in nature.
However, instead of hiking, I was lazy. I took the car to the top, parked, took pictures, and before I knew it, I was back in the car. Next, I drove to the Zugspitze mountains, which is the highest peak of the Wetterstein Mountains and the highest mountain in Germany. There is also an Austria–Germany border that runs over its western summit.
Naturally, I went up to see. Basically, you can cross from Austria into Germany right at the top. Essentially, crossing at the peak of Germany's highest mountain. Pretty cool if you ask me.
I actually decided to stay in Austria. Even after spending many summers and winters vacationing in Austria, I'd never been to this mountain, not from the Austrian nor the German side, and did I mention this mountain is Germany's biggest mountain?! However, I chose to stay on the Austrian side since it was desolate and convenient.
I should note that it's not Austria's highest mountain, only Germany's. While at the top, the weather wasn't perfect once again, but there were still great and far views of both sides, well into Austria and Germany. I was able to see the amazing panoramas of the Alps.
You could also see Lake Eibsee, this extremely clear turquoise lake on the German side. I'd previously visited this lake with my parents on vacation before, so it was cool to see it from here now.
I enjoyed experiencing Germany's top mountain view during corona times. After lunch, I was able to capture some great photos. When I was ready, I took a cable car down the Austrian side and was ready to continue into Germany. With almost 200 miles left to go, I still had a long road ahead of me.
And, of course, I got stuck in another traffic jam on my way to Nuremberg for my TCC meeting. If you need a refresher: The Travel Century Club (TCC) is a club I am a member of. I am currently the youngest member of the group, I might add. If you recall, I gave you a scoop on this club when I ran into the founders on my way to Palau earlier this year.
I met some nice people at the event in Nuremberg. As you may recall, I know the head of the TTC, my adventure pal Achim. It was great to see him again, and we had a great time in Nuremberg. While in town, I stayed with Florian in his apartment.
The day after the TCC meeting, I gave a talk about my time in Yemen at the conference. You may already know that Yemen was one of my first corona escapes, right at the beginning of this year.
At the conference, I enjoyed the presentations and still had plenty of time to explore Nuremberg. That evening, Florian and I drove to a poker tournament and had fun playing with really high stakes.
The next day, it was already time to leave Nuremberg and drive to Munich, where I planned to meet a friend for lunch.
While enjoying time with my friend, I ran into a woman who I met the night before in Nuremberg. We ended up going on a date at 3 am after the poker tournament. Our second date now in Munich was at 1 am. Three weeks later, she met me in Zurich, and we had our third date at 11 pm. Our fourth date was at 9 pm the day after.
Every date we've been on went to sunrise; she's a night owl. I enjoy that specific quality in a woman and am waiting to see how this story develops. We've had quite a few sleepless nights, and they have all been totally worth it.
After this romantic break, I had some more time in Germany, but nothing super noteworthy. I did make a short excursion to visit my hometown while in Germany. After all, this was probably my last visit to see my parents and grandma this year.
Now, it was time to fly to Sicily. That, however, is the content of my next post. Stay tuned to read all about my time in Sicily, Sardegna, and Lampedusa.