Hello again, I know you've been waiting with bated breath for the continuation of our catamaran's maiden voyage story. In my last post, we left off during our time in Lastovo, right around the time we lost most of our guests.
From Lastovo to Mljet
The night everyone left, it was just Sheila, Josh, and I left on board, and the very next day, the three of us sailed to Mljet with a few stopovers on the way.
The first stop was in Lastovo; this is where we tested our underwater drone once again. This time, we wanted to test the depth and explore the ground below us. Keep in mind the drone can safely go about 320 feet deep with a cable of that length.
So there we were, just floating in the waters near Lastovo with high limestone cliffs all around when we put the drone on the water and let it submerge. It went down about 260 feet; it was really cool to see what the Adriatic looks like at that depth. I am very impressed by this drone so far; there is just some much you can do with it.
You can steer it like an aerial drone, it moves really quickly through the water, and it has a very decent camera. We basically had it searching the ground for some fish – although, the Adriatic doesn't have much fish, not like tropical waters anyway. Either way, it was still really cool to use it and explore unseen territories.
Our second stop was at the beautiful Saplun Bay, located on a small island between Lastovo and Mljet. There, we had some more fun with the drone. We used it to spy on some fish, and actually, we realized that it is an excellent safety tool.
For instance, we used it to check on our anchor, or see if it's too deep or if the ground is solid – A super handy and fun piece of tech. So yeah, that's what we did on our way to Mljet.
Mljet 101
Mljet is the southernmost of the larger islands in Croatia. It's actually located super close to Dubrovnik.
Mljet is considered Croatia's greenest Island; it is no wonder when over two-thirds the Island is covered by lush forest. This area (northwest side of the Island) is part of yet another beautiful Croatian National Park.
It has a super stunning bay near Veliko Jezero (Lake Veliko), a large and famous saltwater lake. In the middle of the lake, you'll find a tiny island with the super old and charming Benedictine monastery.
The Island itself has a very picturesque landscape, with its Mediterranean vegetation, clear and clean sea, seamless sandy shoreline.
The day we arrived in Mljet, we spent some time enjoying one of the beautiful bays on the Island. In the evening, we had a lovely dinner in town – a delicious lamb paired with some fantastic Croatian wine. The Island of Mljet is also famous for its wine, how lucky. 😉 After dinner, we went back to the boat and turned in.
The next morning Sheila and I had a nice walk around Mljet; we saw some of the national park and went over to the famous lake. Definitely a very cool iland with lots of beauty and opportunity for adventure.
Sadly, that was pretty much it for our time on this Island. The next day we were already sailing to Korcula. However, before leaving Mljet, we made sure to make a stop in Polace.
Polace is a village in the western part of the northern coast of Mljet (say that three times fast;). Its bay is the safest bay on the whole Island, as it is secluded and sheltered by four small islands: Tajnik, Moračnik, Ovrata, and Kobrava. Because of its shelter and convenient location, this bay is really popular among sailors and yachtmen.
After enjoying some time in Polace, we continued towards Korcula. The old town of this island is often referred to as being a mini Dubrovnik, a beautiful wall town similar to DBK – just smaller.
From Polace to Lumbarda
Our first stop in Korcula was Lumbarda, a small village located on the eastern tip of the Island, about 4 miles away from the old town.
We hung out at this famous beach in Lumbarda; it was charming. From there, we went to the ancient city to check it out, and it was pretty much exactly what you would expect.
We stayed in town until after dinner. It ended up being just Sheila and me, and we had a fantastic night. Over dinner, we had some great talks, and the food was delicious. At some point, I even got some consulting calls done, and after an excellent evening in town, we went back to the boat.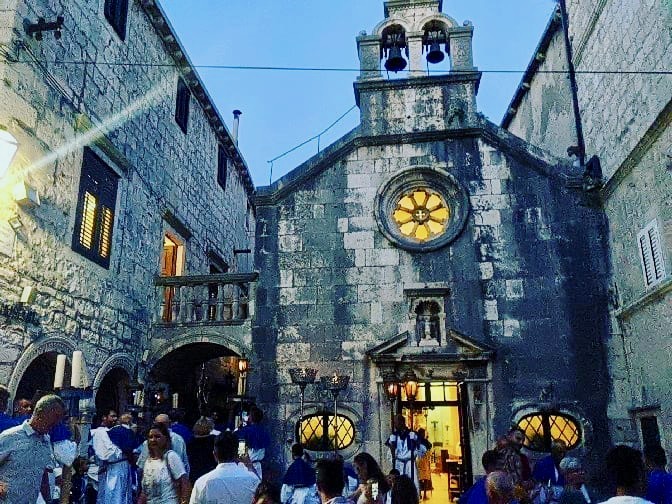 Side note: That evening in Korcula we also made a gas pitstop. It was already time to refill our tanks; we had used the motor a lot in the last weeks. Even though the catamaran works with the sails, we used the engine to get to places we wanted to access without waiting for the winds to turn.
Time for some fun on the mainland – Onwards to Makaskar
The next day it was already time to move on to Makaskar, a town on the mainland, right at the edge of the Biokovo mountains. You may remember it from some of my road trip adventures, this time, however, we were arriving by sea.
It was really an impressive sight to sail there with the vast mountain range in the background. We anchored just off the main beach at Makarska. As you may recall, Makarska is a port town on Croatia's Dalmatian coast, known for its beaches, seafront promenade, and nightlife.
It was super cool to anchor in that bay with the incredible landscape in the background. I was also able to use the manta to get to the beach, James Bond Style. I was going all along the shore for about a quarter-mile. Everyone was watching – they were probably asking themselves, who is that guy… and is he riding a manta?! I mean, underwater and from afar, it really does look like a manta with a snorkel is going by, really fast.
The stop in Makaskar was more business than pleasure… at least initially. You see, I was in Makarska to meet a client of mine, Christina – she actually ended up joining us with her family and friends in the coming days, but more on that later.
Our first evening in Makaskar, we simply anchored in town (after the anchor finally caught), and Christina invited us over to her villa for dinner. She wanted to invite us to Baska Voda, the next town, north of Makarska. On the coastal highway, it's supposed to be only about 5-10 minutes away.
She offered to pick us up in Makarska, which was nice; she has a Tesla, which was even nicer. So for that day, Sheila, Josh, and I were taken out on an adventure. She grabbed us at the bay and began to drive north. First, we went through the tunnel that passes through the Biokovo mountains; after that, it was only supposed to be about three more miles. Well, we drove for over half an hour!
The place we headed to was actually pretty much the last town north before the border with Bosnia. We were literally about half a mile from Bosnia when we veered off and stopped at a lovely little cottage up in the mountains.
The place was truly stunning; it was not a villa like I initially thought, it was much more rugged, yet it was still quite remarkable. We had a wonderful evening with Christina and a couple of friends of hers. Our dinner was delightful; we were feasted on homemade wine, ham with veggies, and lots of other goodies – Peka style.
Did you know? One of the most popular meals in the Dalmatian region of Croatia is Peka? If you're lucky enough to be invited to the home of a Dalmatian family (like we were), you're in for a treat. Basically, you put a bunch of veggies, meat, and seasoning in the ground, cover it with burning embers and a terracotta or iron lid and let it cook for a few hours.
Our Peka was made with some really delightful veal and lamb, and it was delectable. The whole night was fantastic. The alcohol was flowing; the food was delicious, and so many good stories were told.
At around midnight, Christina brought us all back to our boat. Which thankfully, it was still sitting there in Makarska Bay waiting for us. Initially, we thought our evening would end there, that was not the case. Remember I mentioned Makarska is a party town?
Well, we were anchored super close to the famous Macarena Bar – a current COVID hotspot. Tangent I believe there are already a few hundred confirmed infections that have been proven to come from this Bar [Macarena
]. I mean, it's a huge nightclub enforcing cero social distancing, no masks, and probably no sanitizer either, it adds up.
Anyways, the music was loud, making it really difficult for Josh and me to go to sleep. So, we decided to head back to shore. When we got to the beach, we met these two Croat girls (cousins) who had been living in Germany. We started talking and eventually invited them to our boat for a drink (really, not as creepy as it sounds) with a guy friend of them joining.
When we got to the boat, one of the girls felt a little uncomfortable (maybe a bit creepy for them?), so we all went back to the beach. Somehow we ended up at Macarena Bar for a few hours of hardcore partying.
Probably one of the only few places in the world throwing parties like these right now. Totally a COVID hotspot for a reason, but apparently, not for us!
The next morning there was a peculiar event that took place while Josh and I were still fast asleep. Sheila, because she didn't come out with us, was up and on deck when she noticed a guy paddling up to our boat from the shore. It was about a quarter-mile from the beach to our catamaran, and this guy was swimming to us.
He came over to tell Sheila he lost his mobile phone and was asking if two guys were living on the boat. It was the same guy from the night before – but he did not lose his phone with us. Anyways, it was cool of him to swim all the way to us to check; unfortunately, we couldn't help him, so we sent him on his way.
That morning we waited for Christina, the other couple, and their kids to join us on board. With six adults and four kids, we sailed from Makarska to Brac, the main Island right in front of Makarska.
Family Friendly time in Brac
I believe Brac is the largest island of the central Dalmatian group of islands, yet is somewhat of an off-the-beaten-path destination in Croatia. Hvar, Korcula, and Mljet are more popular choices for most people.
We visited Brac because it was close to the mainland; we were looking for a lovely bay to spend the afternoon. We spent the entire day at the bay having fun with our toys. Eventually, we ended up at a wonderful restaurant Christina recommended, having excellent seafood, lamb, and drinks.
Unfortunately, towards the early evening, the weather took a turn for the worst. We decided to leave in haste, trying to get our passengers back to the mainland before that was no longer an option.
Practically halfway back to land, the weather worsened, and the wind really picked up. At this point, we couldn't dock or anchor anywhere near the mainland. So, we decided to go further west, to Pucisca Bay, located on Brac Island. It was our best bet to spend the night safe from the weather.
Pucisca is a town in Brac, and it's known for its white limestone and beautiful bay. It is said that when you see limestone at the White House or any other government buildings around the world, the limestone is coming from Pucisca.
This town is very famous for having the most talented stonemasons. There is a massive stone mining complex right at the cliffs; you can see it when you enter the bay.
So yeah, even though the weather got bad quickly, we were fortunate to get to the bay in time. As we expected, there wasn't really much space for us to anchor, and there was too much turmoil in the waters.
On top of everything, we also had some trouble with the support worker who told us to go to one place, which didn't really work – it was way too windy.
In the end, we resolved it by going alongside one of the caves and anchoring there. From there, the rest of the evening ended up being quite lovely.
We took some time to explore the lovely town of Pucisca with what was left of the day, and that night, we ordered some delicious pizza and wine, delivered directly to our boat—another charming night, enjoying our boat with our friends.
From Pucisca to Trogir
Early the next morning, at around 6 am, Christina and the whole gang caught a ferry to the mainland, and we (Sheila, Josh, and I) got on our way. We had to leave the harbor that early because they had many other boats scheduled to arrive bright and early.
So, on we went, we sailed straight to Trogir, a historic town and harbor on the Adriatic coast – also on the mainland. This was the next port where we picked up new friends. Robert (Croat-German) and Florian (Austrian), two friends who were coming to bring me some more stuff for the boat in exchange for passage on the Staatenlos for the next couple of days.
Once again, that is the beginning of a whole new story, which I will continue on another post. All I'll say for now is that the coming weeks would be very different. Until this part of the trip, the weather was mostly perfect—beautiful and sunny days with little to no rain.
The journey ahead was not as lovely, with lots of thunderstorms and heavy winds… But super exciting nonetheless. I'll be sure to tell you all about that in my next post…