I arrived in Bali absolutely hungry!
I was fasting for 30h after my trip in South Korea. And of course whenever you are hungry, everything seems like to take longer 🤯
When I arrived in Bali, there was a huge queue for the immigration at the airport. I was already choosing my order at the menu from my favorite Steakhouse in Bali, Boy'n'Cow 🐮 
I chose the Steak Tartare as starter, 30 day dry aged 400g Wagyu Striploin (m7-8 score) as main dish and as a side smoked beef bacon, macaroni and cheese – yummy! Oh, I simply love meat!
On the next day I had my appointment with the local notary, so I can order my german certificate of good conduct to apply for an Equatorial Guinea visa.
Afterwards I was hosting the Staatenlos Meet Up. Amazing how we could gather around 50 guests. My nice friends Oli and Lisa offered their villa to be the location for the gathering. The weather was nice, people were chilled, there was enough food, "läuft"! It is how we say in German when everything is going smoothly!
An interesting fact is that my team and I used this trip to also get together. We got to know ourselves better and this synergy only improves our team work.
It is quite interesting to talk to open minded people – they have such a different perspective from the world, they are brave, they find ways to make things happen. This is actually what I enjoy most with Staatenlos: to help people to live the lives that they want! Therefore a big THANK YOU to everybody for joining our get together!!!! We are planning more events, so follow us on social media, so you don't miss a thing! 💥
Some of the guests are Perpetual Travelers, some are simply living in Indonesia after happily saying goodbye to their home country. But all of them go for freedom and for quality of life – something we can only achieve with an entrepreneurial mindset. So, what are you waiting to start? 👀
One highlight from the meet up was the delicious "gingerello" – it is the variation of limoncello, but made with ginger from our dear Italian barista. I highly recommend you guys to try! This drink has a nice spicy kick and it was perfect for the occasion! 🍹
Kikiriki, Kikiriki!
Also a funny fact is that, since I only have girls in my team, I can say that I truly have a "chicken house/henhouse". So my girls woke me up in the next morning making chicken sounds – can you imagine? "kikiriki, kikiriki, kikirikiiiii" 🐔🐔
We were headed to the airport right in the morning to grab our flight to Labuan Bajo. The destination is around 1h by plane away from Bali. The plan was to spend 4 nice days on the Kalani boat with the team and some friends. Our friendly guide Boni and his team picked us up at the airport and took us first to a supermarket. We booked the private charter "all inclusive" for foods and drinks, but we also had a chance to buy extra snacks, beer and wine – and most importantly: sun screen!
It didn't help much, though. In the last day we all were looking like red bell peppers 🌶 🫑
On the first day we already had an adventure. After having lunch, we made a short break in an island nearby – Pasir Putih. There was a nice hike to the top to enjoy some amazing views and perform the first snorkeling activity. I have a new snorkeling equipment – something with a higher quality than the "standard" ones and I was happy to try it on! Let's go! 😉
Hiking, Snorkeling, Bananas and Bats
This trip was all about hiking and snorkeling. My favorite activities! I love to snorkel so much, that I already consider myself part of the sea. The marine world is simply so fascinating!!
We were pampered every afternoon with fried bananas served with cheese and chocolate on top. At first you think that the combination makes no sense, but as soon as you try it, you change your mind immediately. We also took some raw bananas with us, so whenever we were snorkeling, we could feed the fish with them 🍌🍌
Every day we had at least two snorkeling moments. Sometimes even more. I was definitely happy and feeling amazing! The second location for the snorkeling on the first day was somewhere around the East Nusa Tenggara.
We had such a view for the sunset!!
We were all chilling on the pier from the boat, when suddenly we see a flock of bats flying around. There were so many of them that they covered the sky! There were so many of them that you almost didn't see the sky anymore, just bats! The moon behind them simply made the scene!
One amazing value to chill on the pier of a boat: sunrise, sunset, moons and stars.
Our guide Boni told us that they would need to sail during the night so we could wake already up in a nice location. They recommended us to go sleep early because we would definitely be woken up around midnight. So we did.
At 00h30, the motor was on – oh, that was quite an adventure!
Super high speed against the waves, everything sliding and falling, doors closing and opening, I was rolling to the right and to the left on the bed as if I were a pizza dough. I am laughing right now just by writing these sentences for remembering what happened. It felt like we were facing a huge storm – but everything was fine 🌊🌊🌊🌊🌊
Everybody was sleeping "in the basement" and I was the only one sleeping in a room closer to the engines. So of course I didn't hear my alarm nor my girls screaming kikiriki, kikirikii for me to wake up on the next morning because of the loud noise – and this around 5 am. Let's say that I've had better nights 🥱 😴
The agenda was to see the sunset from the Padar Island and do a motherf*%#@ cardio to keep us full awake 🔥🔥🔥
We arrived at the island with the smaller boat and we started climbing up the steps…. climbing up the steps….. climbing up the steps…… ohje, so many steps 🏃🏻‍♀️ 🏃🏻 But well, that is the price to go up and of course we were up for the adventure in the Komodo Islands!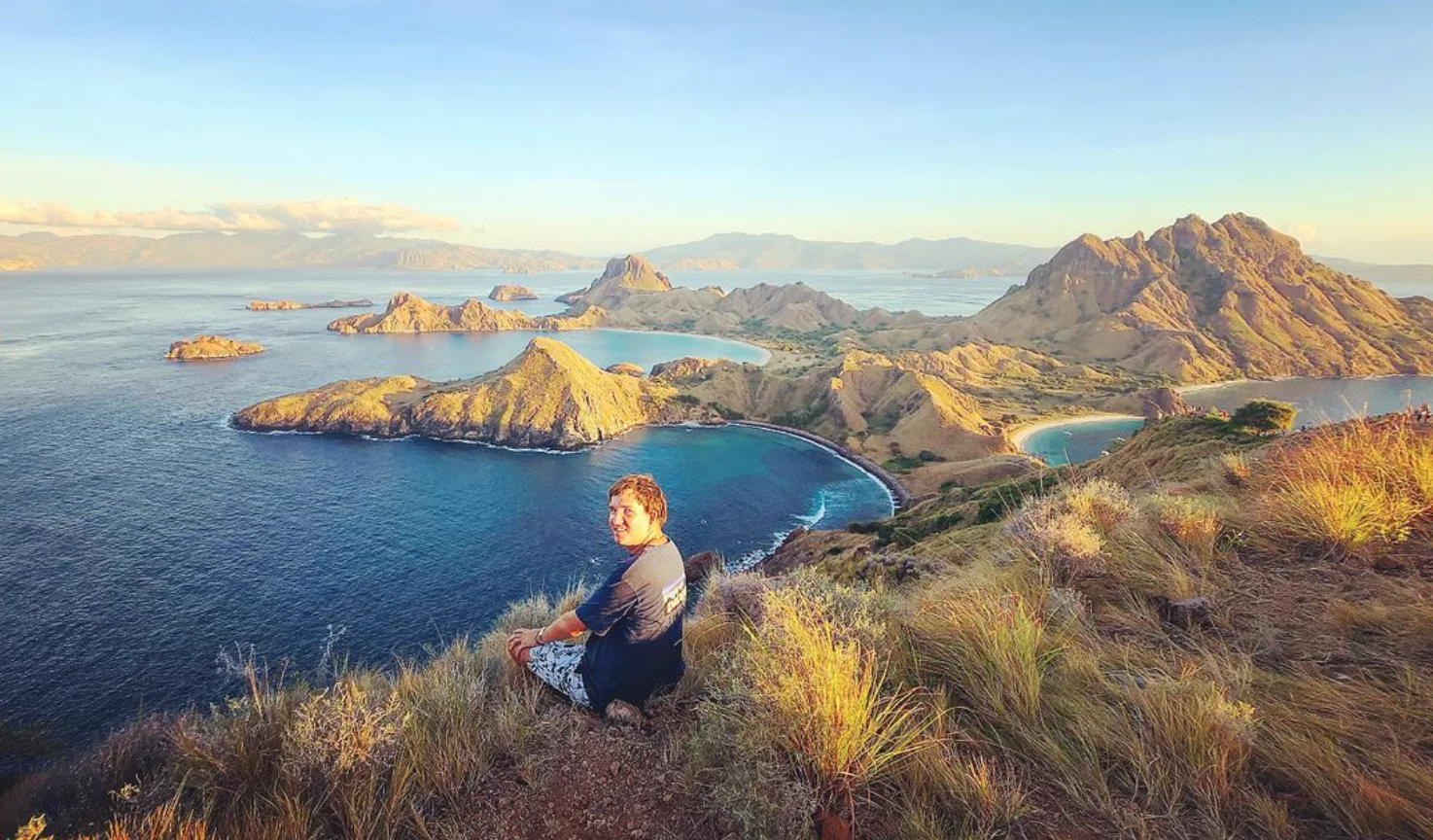 Each level had its beauty – when the sun was already up, we all felt so grateful for that moment ☀️
The Indonesian beast(s)!
Back to the boat to have breakfast. After the morning burning hike, we did a "quiet" morning. We worked and slept. Slept and worked. So we could recover the energies and still be productive 🤓
After lunch, the plan was to go to the Pink Beach and to the Komodo National Park. The pink beach takes this name because of the "baby pink" color of its sands. The color is due to red coral tiny fragments from the region that "paints" the sand.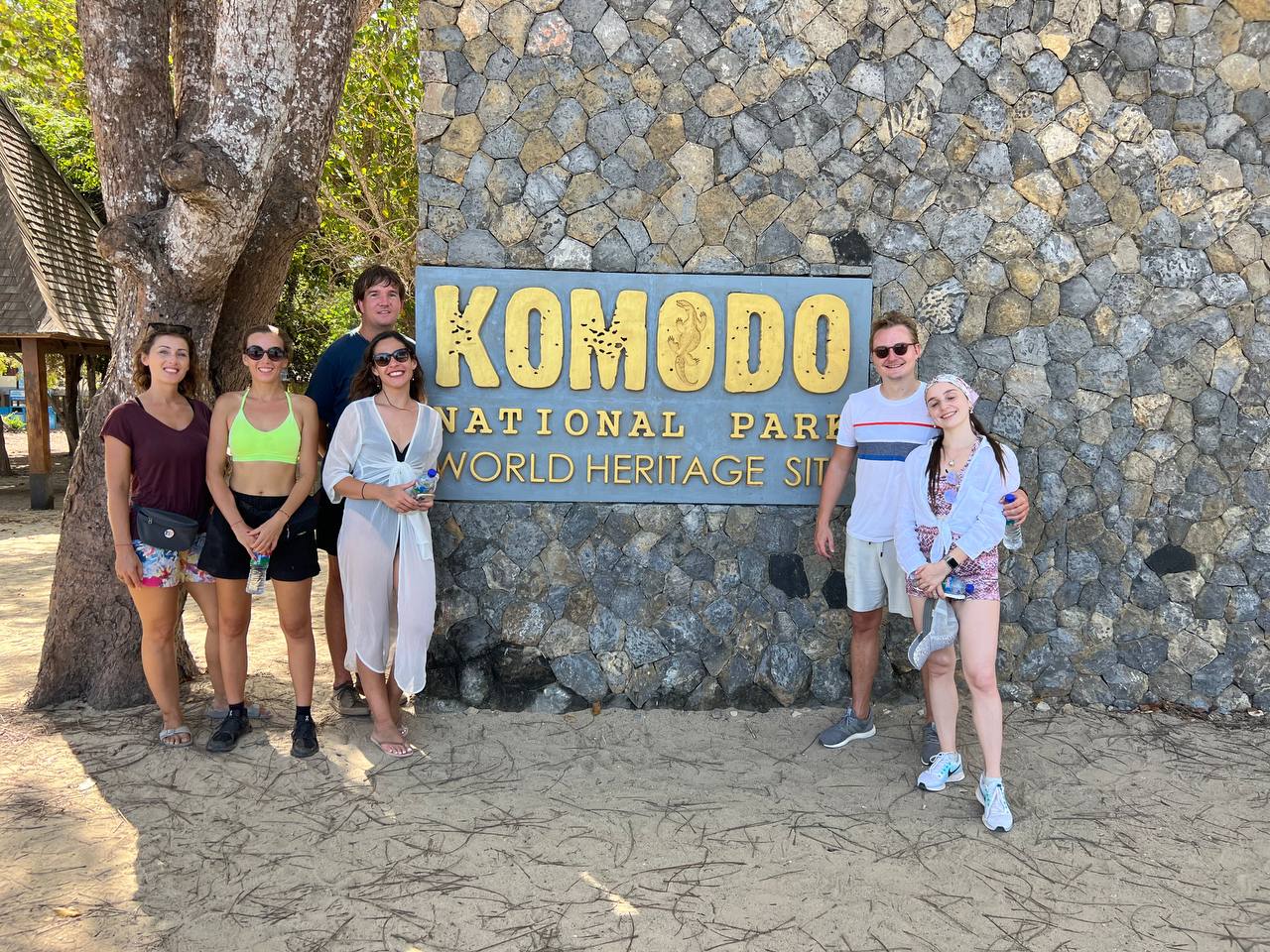 We heard so many rumors of people traveling from so far just to see the Komodo Dragon and not managing to do so. It is not sure that the beast will be there to be seen whenever we arrive – BUT we were lucky. We not only saw him, but also managed to take nice pictured with this Indonesian monster 👹
The Komodo Dragons usually hunt alone, camouflage themselves, poison the prey with venom and wait for it to die. Then they eat the pray in group. Imagine to wait for days for your meal? And I thought I was struggling with my 30h fast. The nature is also pretty wild – the Komodo Dragon Moms place the eggs in a nest and they have up to 9 months to hatch – this is the sole similarity with the humans.
If those eggs were not eaten by another predator, after 9 months the Komodo babys are ready to go. In order to make a "natural selection", the mother simply eats her children(!) Maybe from all the eggs, around 15% survive. Crazy right? We also heard stories of the children eating the mom. The Komodo Dragon is a very unique animal 🐊
The long distance trail was unfortunately closed, so we opted for the middle trail – we walked the course in the space of an hour. There we didn't need to hike that much, it was rather like walking in the park 🐾
Our park ranger even told us, that, if there was some woman currently with her period, that she should stay in the middle of the group, because the Komodo Dragon could smell from a distance the fresh blood. So, after bats and Komodo Dragons, only the vampires were missing! 🩸
Oh, and another animal that is always associated with blood: Sharks!
Of course after our visit at the Komodo National Park, we went for a snorkel. And yes – I saw a nice big shark! 😬 And to compensate the beasts of the day, I also found Nemo! Isn't he cute?
Definitely a great snorkeling experience!
Later in that evening I had a consulting for Staatenlos – we asked Boni if we could have a quieter night of sleep. He smiled 😊 therefore, good night! 🌚
Maldives? Mauritius? No… Taka Makassar.
Next day, same thing: sunrise, nice breakfast, work hours and snorkeling!
First we went to a location that we needed to change afterwards because the sea was quite wild and not optimal to snorkel ☹️
Then we actually went to a paradisiac location: Taka Makassar. Simply WOW! The place was like a big swimming pool with lukewarm water – the four girls preferred to take pictures of their own instead of checking some fishes. The location was simply amazing!! 💙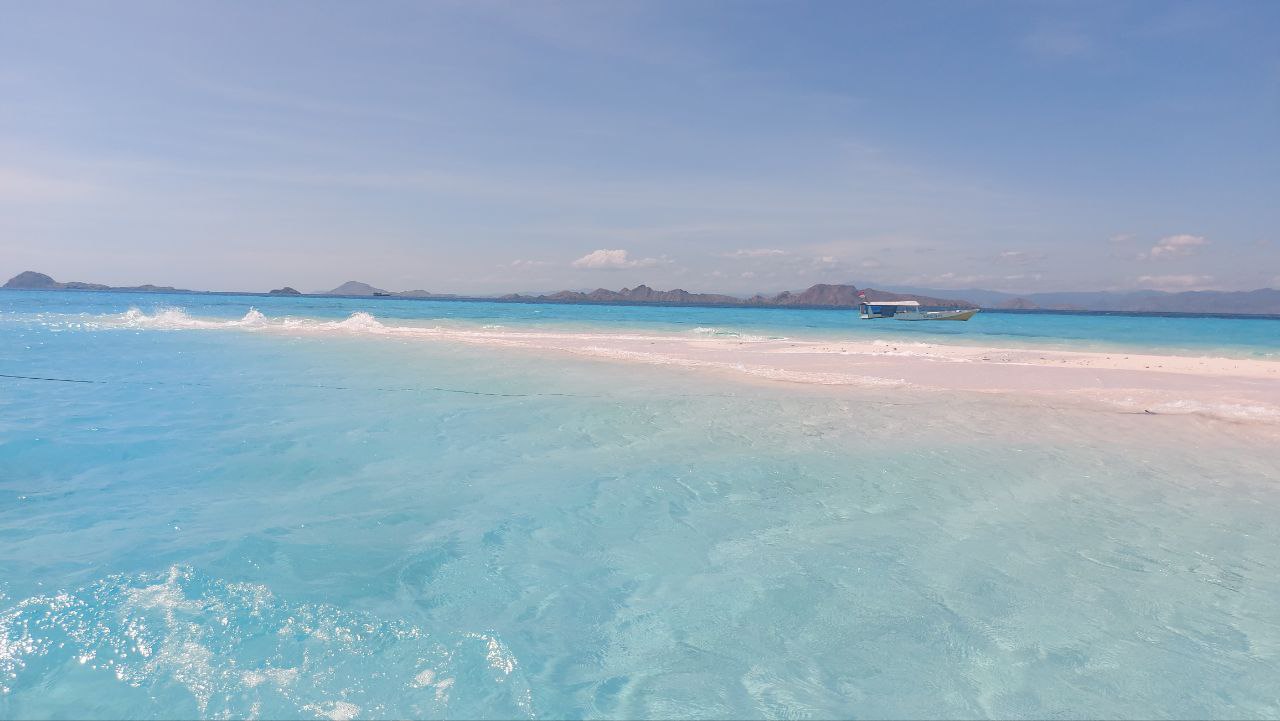 That day was dedicated exclusively to snorkel (Christoph was happy! hahahahahaha), since we should already come back on the next day. We had the chance to see some turtles, but not many. We also looked for mantas, but they were hiding from us!
We must say, we were very well pampered in terms of food on the boat. Boni and his team did a great job. We always hat fresh food and in abundance, tasting delicious and with vegetarian options too.
Besides the fried bananas and some dragon fruit juices, we also got nice deserts. The one on the last evening was so carefully prepared that when they brought the dishes, everybody was like: "booooooaaaahhhhhhh" 😱😱😱😱😱😱
We laughed a lot on that evening and had a great time! 😁😁
Last day
After another quiet night of sleep, we were talking to Boni about the snorkeling locations before sailing back to Labuan Bajo. We were already looking like bell peppers, specially on the back because of snorkeling. We found two nice locations on the way to the island – in general we found nice places, blue waters and lots os fishes.
After lunch, we packed the bags and were transported with the smaller boat to the cars waiting for us at the bay.
I chose to check in at the hotel Meruorah – we went for a nice shower after 4 days on the boat. The dinner was at the restaurant Green Cherry.
Next stop: Jakarta and Raja Ampat – The snorkeling can't stop! 🐠🐠