We left off on my Central Asian adventure on the border between Tajikistan and Uzbekistan. Following treks across an Afghan border region and one of the world's highest mountain passes, we were headed for the historic city of Samarkand.
Ahead on this journey through Uzbekistan lies a tour of classic Islamic architecture, a cemetery date and ship graveyards that occupy a dying sea. This may sound depressing, but trust me, it wasn't. So without further ado, let's get started in the most spectacular city in Uzbekistan. 
Samarkand, Crossroads of Culture
From the Tajik border, I took a taxi to Samarkand with the expectation of only staying two nights. I had booked myself a private guesthouse within a hotel complex. After being on the road for so long in Tajikistan it was very comfortable to have my own little apartment.
There was enough daylight left to see some of the city, so I set my bags down and left immediately to go explore. 
Samarkand is divided into two parts, the ancient old part of town and the new Russo-Soviet part. The old part has been inhabited for about 2,500 years. It earned the nickname "Phoenix City" because of how many times it was conquered up until it became part of the Russian Empire in 1868.
In the center of the old town is Registan Square. This was the heart of the city where the citizens would gather for important events like royal proclamations and executions. It consists of three huge structures called madrasas. The madrasas are Islamic learning centers and they're very intricately designed and impressive to see.
It is hard to do them justice with a picture. But I tried anyway.
I overheard someone say the madrasas are even more impressive at night, so I hoped I would have time to come back later. Apparently if you're lucky, sometimes there is even a laser light show.
After enjoying one of the world's greatest examples of Islamic architecture, it was time to pay homage to one of Islam's most famous historical figures.
Tamerlane, aka Timur or the Sword of Islam, was the last great nomadic conqueror of the Eurasian steppe. His mausoleum is called Gur Emir or "Tomb of the King." The name seemed appropriate because he is the central figure in Uzbekistan's long history. Also, he was sort of a descendent of Genghis Khan, and he was considered one of the greatest military tacticians of all time. 
The building is decorated in a very rich style with deep blue mosaics and gold everywhere. Once again I was told that the building was even more beautiful when lit up at night.
I left Tamerlane in his crypt and explored a bit more of Samarkand. It was easy to see why this city is so valued by students of Islamic architecture. There were beautiful mosques and mausoleums everywhere.
I bet even non-Muslims wouldn't mind being buried in one of these.
After a bit more exploring I walked back to my guesthouse to catch up on some consulting work. Tajikistan had not been the most reliable place for an internet connection, so I had plenty of work to do. 
All of these suggestions about coming after dark made me curious about how these buildings could become even more beautiful. I decided to go out exploring again when the sun went down.
I wasn't let down. Not by the buildings at least.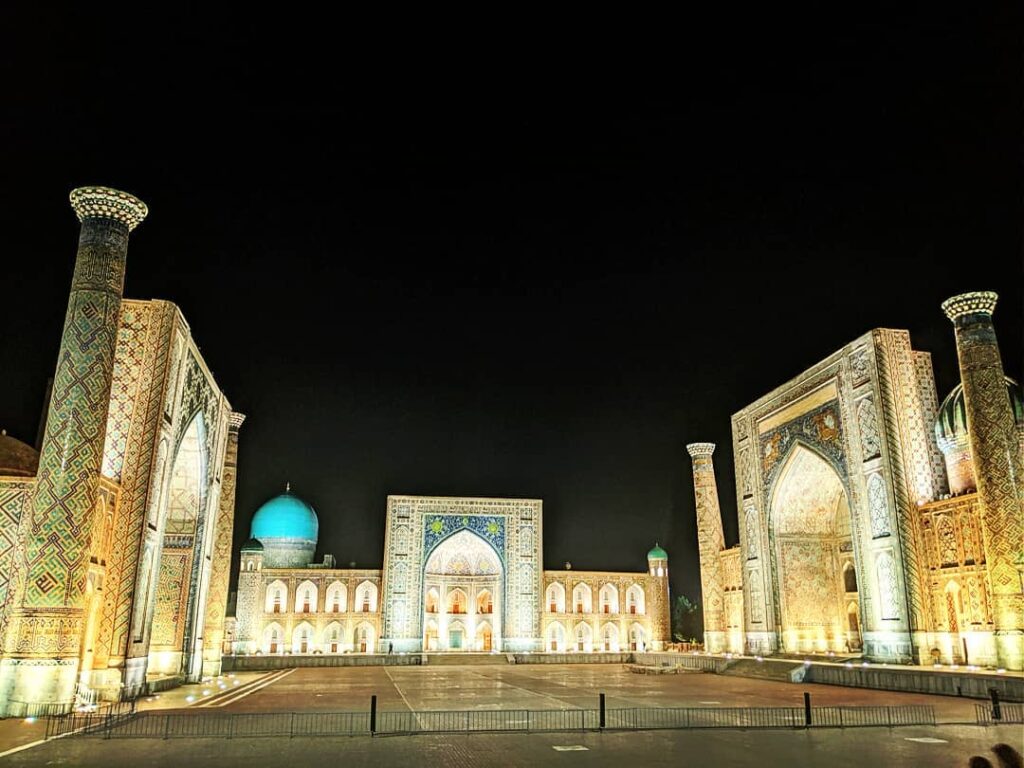 I was a little let down by the lack of food available after 10 PM. After watching the light show I was hungry but couldn't find anything open. It seems like a missed opportunity for the city to spend so much money illuminating these buildings, then not having any food for the hungry tourists who go to admire them.
Imagine how much money the "Mac Dolands" from Tajikistan would make if it was open late in Registan Square.
I didn't get a bite to eat, but I did get a… Tinder match.
She was a girl with a Russian mother and an Uzbek father. Normally she lives in Moscow, but she was in Samarkand to resolve some issues after her mother died. She seemed like a nice companion so I decided to meet her the next day.
Local Lady of Samarkand
The next day I slept in a little bit. I wasn't meeting my Tinder match until about 4 PM. So I had some more time to catch up on work.
Having worked all day by the time we met up, there was a lot I still wanted to see in Samarkand. We took a taxi to the outskirts of town where there were some sights to see and we had an interesting conversation comparing Germany, Uzbekistan, and Russia.
Since she had spent a lot of time in Uzbekistan, she made a great tour guide. We visited a tower for one of Tamerlane's sons and another nice square with four more madrasas similar to the ones at Registan, but not in as good of condition.
The sun was starting to set. The night before I had missed the sunset. But this time I got to enjoy it with some good company and was glad I did. Even if we watched it from a graveyard ?
After the sun went down we went back into the old town where my hotel was. We had agreed to go out to dinner, but first I needed to take a consulting call. So we planned to meet after an hour.
We went to a very quality restaurant and had a great time. So much so that I decided to stay in Samarkand an extra day instead of leaving the following morning. It would push all my plans back a day, but there were still some things I wanted to see around Samarakand and I was having a fun time with this girl.
Missed Connections
In the morning I took a taxi south of Samarkand to see the birthplace of Tamerlane. It is a place called Shahrisabz. Historically the city was called "Kesh" so you might have heard Tamerlane referred to as Timur of Kesh. 
There is quite a lot to see in Shahrisabz, but shortly after I got there it started to rain very hard. I saw a couple of mausoleums before heading back to Samarkand.
The storm was starting to make its way to Samarkand, and it brought some bad news with it. This girl who I had met yesterday would not be able to meet up. Something came up for her and she didn't have time in the end. 
By the time we had decided that we would not be able to meet, it was dark and rainy out. I didn't have any cash left after taking the cab earlier, so I left my hotel in the rain to search for an ATM. 
I was hungry but wasn't very confident I would be able to find something to eat after going to sleep hungry the first night.
I took a gamble that the nicest hotel in Samarkand might have an ATM and I wasn't wrong. It was about a 4 km walk in the rain, though, so I was dripping wet by the time I got there. Even though I didn't take out a lot of money, my wallet became full quite quickly. At the moment, one Euro equals over 10,000 Uzbekistani "som."
It was 11pm by the time I got back to the hotel. Luckily, some workers pointed out a restaurant not too far away that was still open. I had a kebab and some nice Uzbek red wine. Of all the countries in Central Asia, Uzbekistan is said to have the best wine.
It was a little after midnight by the time I finished and still raining pretty hard. I didn't feel like walking the 4 km home in those conditions, so I had the restaurant call me a taxi.
Bukhara
In the morning it was time to leave for Bukhara.
Bukhara is basically located just to the west of Samarkand, but still about a 5-hour drive away. The city is about as old as Samarkand — around 2,500 years. It is called a "town museum" because it has over 140 architectural monuments. A lot of these Uzbek cities boast having many monuments because of the wealth that came with being part of the Silk Road.
Speaking of the Silk Road, or rather the new Silk Road, Uzbekistan recently invested in a Chinese-style bullet train. While it takes 5 hours to drive from Samarkand to Bukhara, the train can do it in just an hour and a half. I intended to take this train, but couldn't buy a ticket online because the new website had many bugs. And with the ticket office on the other side of town, I opted to take a taxi instead.
I left Samarkand at 7 am and arrived in Bukhara at noon. 
While the origins of the two cities are very similar, Bukhara is much more conveniently laid out. In Samarkand, all the sights are very far apart so you either need to run around a bit or take a taxi. In Bukhara, all the old mausoleums and mosques and museums are right next to each other in the same district.
First I went to see the Mir-i Arab Madrasa. 
Much like the madrasas in Samarkand, the designs on this building were beautiful. Such intricate designs and rich color.
Next, I headed to Poi Kalan.
Poi Kalan is another massive Islamic religious complex complete with madrasas, a minaret and mosques. When Genghis Khan first saw it, he was so impressed that he mistook it for a Khan's palace and moved in. 
Later when Bukhara was under siege by the Karakhanids, he burned it to the ground. It has been burned to the ground several times, which is ironic because in pre-Islamic times it was the site of a cathedral for fire-worshippers.
There was a promenade that led to a big citadel where you could get a great view of the city (like in Aleppo but minus all the destruction). In the picture, you can see the minaret that belongs to the Poi Kalan complex. It is the largest minaret in the city.
From the citadel I saw a large metal tower, so I decided to go check it out.
I found out there is a rooftop restaurant at the top of the tower. I didn't want to eat there but paid some money to get a view of the city. At night they light the tower up. You can see what it looks like on the far left in the picture below.
I walked back to my hotel a little after dark and snapped some pictures along the way.
As you remember, I stayed a day longer than planned in Samarkand, which pushed everything in my trip back a day.
I decided to stay in Bukhara for an extra day, as well, since I had a lot of work to do and needed to rearrange my travel plans. After Central Asia, I would be going to Dubai en route to Iran, which would require a bit more planning and structure.
As things turned out, I was a little underwhelmed by Bukhara. There was not much to do, and I had really enjoyed my time in Samarkand, a city that seemed tough to beat.
The next day I worked and arranged my upcoming travels. After doing some research, I decided that with my four remaining days in Central Asia I wanted to swim in the Aral Sea. 
I explored Bukhara a bit more at night and was ready to leave. 
The Great Walls of Khiva
The following morning I woke up early and got in a taxi to embark on a 6-hour drive to Khiva.
Getting to Khiva around 3 in the afternoon I knew I needed to see as much as I could before it got dark. My extra day in Samarkand cost me a day in Khiva. I would be leaving the next morning.
Khiva is another ancient city. It is located very close to the border with Turkmenistan. 
As you can see it is another shining example of Islamic architecture, with mosques and mausoleums everywhere.
Khiva is also split into two parts, old and new. Both are protected by big 10-meter walls that have been there for hundreds of years.
I saw as much as I could before dark, then headed to my hotel for the night.
Unfortunately, because I was only in Khiva for one day, I have a lot more phots than stories. I really enjoyed Khiva, though, and found it quite beautiful. So I'll let the pictures do the talking.
The Aral Sea
My next destination would be Nukus, the capital of Karakalpakstan. Karakalpakstan is an autonomous republic inside Uzbekistan that makes up about 40% of the territory of the country. Karakalpakstan didn't become a part of Uzbekistan until 1936, so the region has a different language and the people are probably more similar to Kazakhs than to Uzbeks.
On the morning of my trip to Karakalpakstan I overslept, waking up at about 8 am. I was supposed to meet my guide at 9 in Nukus at a location that was a two-hour drive from my hotel in Khiva. I packed as quickly as I could and found a taxi. 
After about half an hour of driving, I realized I had left my passport at the reception desk. The taxi took me back to get it, but now I was at least a couple hours behind schedule. I was starting to feel like I wasn't going to be able to see the Aral Sea because the tour guide had been very clear to be there at 9.
I didn't manage to meet my tour group until 11. Luckily, this ended up being no big deal.
There were about 60 people on my tour, so the extra couple of hours were necessary to get everyone together. One of my tour guides even spoke English very well which was handy for me. 
We got into our busses and started the tour by driving through Nukus.
Nukus felt fairly modern compared to the other cities I had seen in Uzbekistan. It was established in 1860 so there aren't as many old mosques and mausoleums as in the previous three cities.
We drove through it and had some things pointed out to us, then continued on to Muynak. 
Not long ago Muynak was the biggest port city on the Aral sea. It had a thriving fishing industry that caught as much as 160 tons of fish per day from what used to be the fourth-largest body of inland water in the world.
In the 1940s Soviet planners decided to divert the two rivers that feed the Aral Sea into the surrounding desert. Their plan was to irrigate the desert and grow various crops like rice and cotton. By the mid 1980s, the water level was dropping 80-90 centimeters per year, and by 2007, the entire body of water was 10% of its original size.
This turned Muynak and other ports into ghost towns and ship graveyards.
We explored the town a little bit and saw the old fish canneries and museums with pictures of the lake in all of its glory. I took some pictures and climbed around the rusty old ships that you can see below.
After a little while, we got back into the buses and drove off the road into the desert to get to what remains of the Aral Sea.
The guide who spoke English well turned out to be a renewable energy expert. His expertise was in wind energy but he was knowledgeable about water as well. I talked with him about the water problems in Uzbekistan. 
He told me that the problem isn't so much the availability of water, but the technology. If they were to invest in modern technology — like the Israeli irrigation system we nomad farmers use to grow our walnuts in Georgia — they could get rid of 90 percent of the water waste and refill the Aral Sea.
Instead, there is now a giant desert where the Aral Sea used to be. It's called the Aralkum Desert.
Because this desert is situated on land that was once a very saline rich sea, there are occasional storms that lift salt out of the ground and deposit it on all of the surrounding crops. This devastates most of the produce and cotton that farmers try to grow. Some locals believe the salt is even contaminated due to chemical weapons the Soviets produced in the Aral Sea.
The guide mentioned that if the Aral Sea was revived with water, the sandstorms would stop. If the sandstorms stopped, the climate would be much more pleasant and they wouldn't need such extensive irrigation.
The problems don't end there, unfortunately. It shouldn't come as much surprise that oil has found a way to complicate the situation. 
Shortly after the lake started to recede, oil was discovered where there was once water. Now, they have many gas compression stations and oil rigs scattered around the dry parts of the lake. The people who are making a lot of money from this oil don't think very favorably about the Aral Sea being brought back to life.
We continued our drive and got to really see how bodies of water mold the landscape. Driving down through canyons that at one point were completely submerged made for good research for my future plan of operating a Nautilus-like submarine.
Just before dusk, we arrived at the new shoreline of the Aral Sea.
My plan all along had been to swim in this little body of water that was once the 4th largest lake in the world. I changed into swimming gear as soon as we got there.
I walked the 200 meters or so from the bus to the shore, and by the time I was 10 meters away from the water it felt as if I was walking on quicksand. It was extremely muddy, the was ground swallowing half my legs with every step.
I took some pictures while I had my phone, then went back to the bus to strip myself of electronics in preparation for entering this muddy, salty water.
The swimming was great. The salinity of the water is so high that it feels similar to swimming in the Dead Sea. You could submerge yourself and feel very buoyant, floating around without any effort to stay on top of the water. 
Now that I think about it, maybe the reason I floated so well was all the biological weapons the Soviets tested there… Who knows what superpowers I might have after soaking in this water? ?
Someone on Instagram suggested I be the superhero "Libertyman". That's a possibility…
After a relaxing swim, it was pretty much dark out so I went back to the bus. The mud was extremely hard to get off my legs and I didn't have much water to use for washing. After all, we were in the middle of the desert. Water was worth its weight in som. 🙂
At a certain point, still a bit muddy, I decided I was clean enough. We got back into the buses and drove over to a yurt camp.
They don't have many buildings here. Instead, they have these portable yurts you can see below.
We found a little place for the tour group to have dinner and spend the evening together.
I met a couple of German girls and guys. We drank some vodka, ate dinner and told stories with the Aral Sea sunset in the background.
The tour guide I mentioned earlier was getting quite drunk, as well, and started making toasts. I figured I would join in the fun and toasted to our functioning alcoholic tour guides and the prevalence of alcohol in the absence of water.
I mentioned to the tour guide that I wouldn't be able to visit Turkmenistan, and he told a funny joke to make me feel better about missing it. It is hard to paraphrase the joke, but basically it was saying the Turkic people wake up for breakfast and read about their dictator on the front page of the paper. For lunch, they listen to the radio and hear their great leader giving a speech. For dinner, they turn on the television and watch him give some performance. After all this, they fear if they open their fridge he will be there as well.
I won't be reciting it at any dinner parties outside of Central Asia, but I found it very funny at the time.
Back to Nukus
There wasn't much to do except drink. So after dinner, I went back to my hotel and read a bit.
Between my Tajikistan trip and Uzbekistan you probably notice there is a lot of driving and not many party nights. My Kindle was my prized possession during these bits of downtime. By the end of my Central Asia excursion I had gotten quite a bit of reading done.
I was happy to have gone to bed early because I was able to wake up at 6:30 am and watch the entire sunrise over the Aral Sea.
As beautiful as the sunset was, the sunrise was even better. We watched the sun climb in the sky while the reflection grew towards us on the water which was quite pretty.
We took our pictures and started the drive back to civilization.
Another interesting picture I took as we made our way back to Nukus was of this very old Uzbek cemetery. It looks more like a small town than a cemetery, since lots of dead Uzbeks have their own little mausoleums here.
Between the mausoleums of Samarkand and this sort of graveyard city, it's clear they really know how to commemorate the dead here.
Tashkent
Back in Nukus I said goodbye to the group and went to a hotel briefly to rest and work a little. After a couple hours a taxi came to bring me to the airport. I was on the two and a half hour flight to Tashkent just as the sun went down.
Tashkent is the capital and largest city in Uzbekistan. It has a fairly large population of about two and a half million people and is one of the wealthier cities in Central Asia. This is mostly because after Germany invaded the Soviet Union in World War II, the Soviets moved many of their factories and communist German defectors to Tashkent so they would be out of the German army's reach.
Anyway, I landed in Tashkent late and immediately looked for a restaurant. The one I found was very tasty, had a steak and some nice salad with burrata. I couldn't tell if the restaurant was as good as I thought it was, or if I was just craving a real meal after nothing but kebabs, plovs and fried meat for the last week. 
I had one more day left in Uzbekistan. After dinner I found my hotel and read myself to sleep.
The next morning I woke up and walked around, trying to sightsee as much as possible. I was in a situation like in Khiva where I only had one day to explore the city. I saw some old Soviet memorials and hotels, a government building and, to cap it all off, a statue of my nomadic role model. I will let the pictures below tell the stories:
Through some lucky chance I found out that an old client of mine is currently an investor based in Tashkent. We met for dinner and he told me all about living in Tashkent as a Canadian, and all of the opportunities Uzbekistan has to offer. Maybe one of the best parts of my business is these types of situations. I can be somewhere remote like Tashkent, Uzbekistan and have a great evening talking about life and ideas with a former client. 
Tashkent is actually starting to boom. It has lots of new buildings, though it lacks the fascinating sights that Uzbekistan's touristic cities have.
Wrapping up my trek across the Stans
Uzbekistan really made for a fitting place to finish my trek across the Stans. If you previously thought this rugged region was just some obscure area of the world without any grand sights or structures, you now see otherwise. Uzbekistan, especially, is littered with impressive attractions — alive or dead or in between — and thanks to a newly liberalized visa policy it is now much easier for westerners to visit.
Unfortunately, the same cannot be said about Turkmenistan, which like Afghanistan, I came very close to but didn't manage to enter. In the case of Turkmenistan that was due to the country's extremely difficult visa process.
But with missed border crossings come new opportunities. I now look forward to returning to the region to go where most travelers never go and to complete the Stans. It's only a matter of time.