This post picks up right after my layover in Paris. I'd made my way to French Guyana and made my way to the boat, which was waiting in the waters near Kourou.
Back with my crew in Kourou
The crew received me with a nice welcome dinner, and I woke up early the next day, ready to tackle a big agenda.
I worked a lot during my time in French Guyana. I had around 4-5 consulting calls each day! Starting my day at 7 am and finished by 2-3 pm. My first morning in Kourou, I finished work, had a quick bite and headed to town to see a little and load up for our upcoming boat trip.
Kourou is a town and district on the Atlantic coast of French Guiana, a South American overseas department of France. Located on the mainland, where the Kourou River flows into the Atlantic.
Being part of Amazonia, the land is almost entirely covered in rainforests, with numerous creeks and small rivers. Many of which, I got to explore with the Staatenlos during my stay in French Guiana – more on that later.
First impressions of Kourou
We quickly noticed there is not much to see or do in Kourou – especially during covid. Our goal was to see the main attractions of the area: the Guiana Space Center and the offshore Salvation Islands.
For my first day in Kourou, we drove a lot. We went to the space facility, which has a cool museum and launchpad. Unfortunately, it was all closed thanks to corona.😒
We still went in hopes of getting lucky and catching some action from afar. The space centre is about an hour north of town. once we took the final exit, we had to drive down a long road that lead to the facilities. After a considerable drive, we arrived at a restricted area. Everything was closed.
There is usually a couple of launches a day. Unfortunately, the schedule was disrupted, but not because of Corona; this time, it was the volcano's eruption in La Palma. Interesting that there were no flight problems in the area, but the rockets couldn't be launched. 🤷‍♂️
In the end, all of the rocket launches were delayed until November. We were bummed to have missed the chance of seeing rockets flying through the air.
It was still nice to see the area from the outside; there were some rocket replicas and even an old authentic rocket ship which we could see pretty well, so that was pretty cool. Our visit to the space centre was the main event of the day.
After the excursion, we went to the supermarket, which was great and painful, all simultaneously. It turns out there is a great selection at the supermarkets in FG – Just as you would find in the stores in the biggest cities of France.
However, the prices are definitely not in accordance with Latin American standards. In fact, they are actually as expensive or more than the priciest areas of France.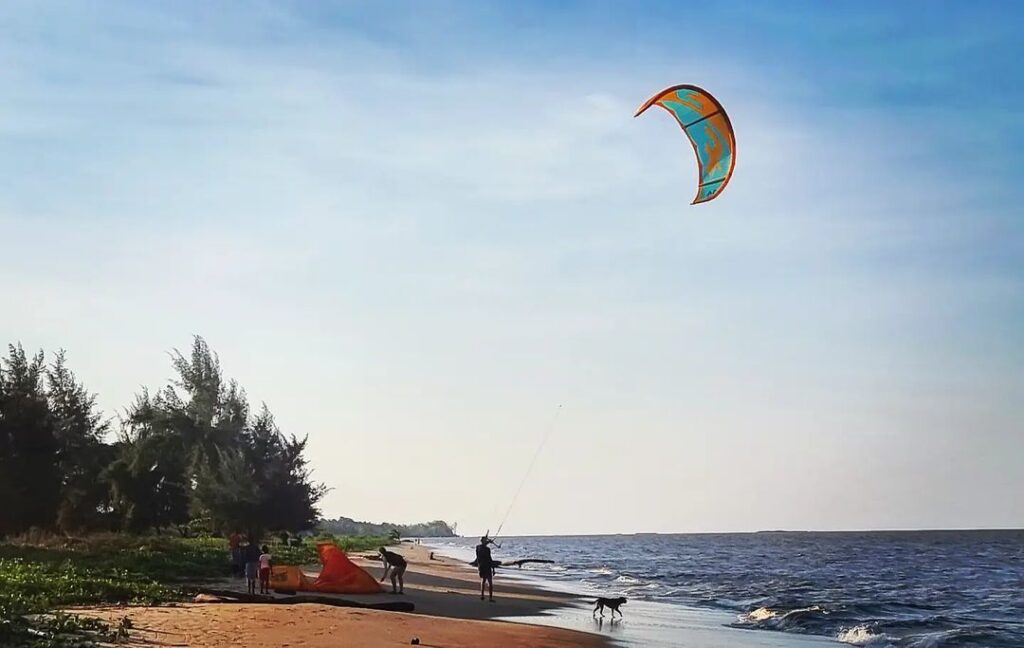 We loaded up and went to see the little there is to see of the actual town. We learned that Kourou had a prison that was part of the infamous Devil's Island prison system.
After the prison closed in the mid-1900s, most of the buildings were demolished to make room for the big hotel that now stands there.
Today, the most notable remnant of the prison is a small structure resembling Pisa's leaning tower or a lighthouse.
Fun Fach:The original purpose of the tower was to communicate with the islands via the semaphore flag system in the days before radio.
The tower is located where the river meets the ocean; the landscape was stunning. We walked around for a bit, took some pictures and went back to the boat for another nice night with the crew.
Sailing with the Staatenlos once again
The next day we were ready to set sail. All preparations were done, and the time had finally come for me to explore waters with the Staatenlos once again! 😍
Our first journey was small; our first stop was only about 6km away from Kourou. Our destination, Illes de Salut!
Illes de salut 101
Also known as Salvation Islands, they are these three little islands off the coast of Kourou. It's very shallow waters between the islands, mostly unsettled wilderness made up of low-lying coastal plains with some hills and small mountains.
The islands are a famous former penal colony. In fact, all of FG was a penal colony for France. These islands, however, were saved specifically for hard cases. Outlaws that were never meant to make it back into society.
Even though the waters are shallow, there are a lot of sharks which are the perfect deterrent for prisoners to stay on land.
The movie papillon, which is also a book, was filmed there. I read the book and saw the movie, so I was excited to see the grounds myself.
And I did! Finally, with my own catamaran. The catamaran had already been by the islands; Josh had done quite a bit of research to see where we could anchor.
The main island is pretty much a big hotel, which was closed to the public, so we wouldn't be allowed to dock there. Apparently, the island fishermen live in fear of covid and are really scared of the outside world. They don't have any covid cases, and they minted to keep it that way.
Luckily, there is an uninhabited island, Ille de Saint-Joseph. This was supposed to be the worst of the islands, the prison of the prisons.
This is where most of the old prison remains are and where we were allowed to go. We anchored there and enjoyed the waters for a while, despite the sharks.😉
I did some snorkelling and then went on land over 5-minute dinghy ride. On land, ee walked all over the island and to the top of the hill. Nature fully taking over, the whole place is riddled with ants and lots of spiders inhabitants!
Aside from the ruins, there was not too much to see. Albeit, the prison and its decaying infrastructure had a very spooky vibe which made for a nice adventure.
I was happy we were exploring during the daytime though, and not only because I took lots of pictures. 😉
If we still found it to be quite eery and chilling in the daytime, I can't imagine the vibe throughout this prison and its abandoned buildings at night.
After going through the prison grounds, we went to a beach on the other side of the island and had another nice swim there. I was happy there were some animals on land, we got to see some capybaras! Apparently, there are also a lot of monkeys on the island, but we didn't get to see any of those.
We also took the dingy to the other nearby island, which also had restricted access. We didn't dock; it was just a drive-by to see the sights from afar.
We had a nice night on the boat; nothing eventful happened. The next morning we lifted anchors early. We wanted to go to Saint Laurent du Maroni, located right at the bottom of Surinam.
Onwards and upwards to Saint Laurent du Maroni
Before starting our journey, we had to go back to Kourou to drop off Josh's friend, who had to fly back to Germany.
We brought her back to the mainland and got her a taxi to the airport. While in Kourou, I got to do some consulting calls and that same afternoon, we were already on our way to St. Laurent.
The journey to St. Laurent was about 100km, all of which we did the same. It was really nice to sail along the coastline, it is basically flat, so there's not much to see, but you can't really go wrong with clear waters and blue skies.
At night, I did my night watch again from 8-1 – we'd been doing this in the last few nights. There are some fishing boats in the area, and you have to be careful to avoid collisions or worse.
It's pretty hard to see them in the dark; I mean, you see the lights, they have lights – but you can't really tell if they are half a mile or 5 miles away. Sometimes we cut it pretty close, especially where it's narrow, and we would pass the fishing boats at 100m distance, close, but all safe.
When navigating in rivers, you have to be really careful. Some areas may be very shallow, and that was the case in the Maroni. We had to be quite offshore, about 6 miles (10km) away, to have waters that are deep enough for our boat to navigate through.
We planned the night journey that way so that we would already be at the River mouth by morning time. We didn't want to go up the river at night to avoid sand banks by diligently adhering to the path the buoys create.
Our timing was perfect, by morning we were entering the river; it did take us a few hours to fully enter the waters. Once inside, we anchored for a couple of hours and went on land to check out the jungle nearby.
There was actually not much else other than jungle, no village or ruins or nothing. So we just went on land with josh and the chicken for a quick stint.
Actually, I think this is the first time where I have officially introduced Chicken. I haven't really spoken about it much, but when we arrived in Brazil, Josh bought a chicken, it's a — chicken, so it was a lot these white feathers, quite fluffy and big already.
It's become Josh's best friend. He always takes Chicken on adventures to land so they can have some fun. He even has a chicken coup on the boat. Probably the most well-travelled chicken in the world right now.
The other guys stayed on the boat, so only Josh, Chicken, and I went into the wilderness.
I wanted to check out this area to find some caymans. Apparently, they hang out around there. Sadly, no sightings of live land animals. We did see some birds and carcasses as we walked along the beach and enjoyed the raw nature of our surroundings.
Then went back to the boat and continued to St. Laurent du Maroni.
Saint Laurent du Maroni is another border town in the northwest of French Guiana. It is the second-most populous city of the territory, located right on the Maroni River.
Making friends in unexpected places
We arrived in the early evening, anchored and made our way to town to have a little tour. We got a small feel for the town, but once again, everything was pretty much closed.
Everything except for a bar right at the marina, which turned out to be a pretty cool place. The bar is run by an eccentric Italian guy – a nice fellow named David – we became fast friends.
We met other sailors there, which was nice. We had not encountered many sailors since leaving Europe; there were practically no sailors in Brazil.
It was wonderful to finally meet some more of the sailing community along the way. I was pleasantly surprised to see French Guiana had some like-minded people. We had some beers with our new friends while sharing stories and discussing future plans.
It turns out French Guiana was a safe-heaven for many sailors when the lockdowns started. Most countries in the Caribbean closed their sea borders except French Guiana.
We learned that FG remained relatively easy to get into for sailors throughout covid. With this in mind, the 20-25 boats we saw moored in the river started to make sense.
The region's tropical climate makes it, so the tides impact the river, a lot of contrasting currents as the tides roll in and out. Herein lies the need for mooring.
The mooring area was pretty nice, also close to town, and it has this big old shipwreck grounded there. On top of the wreck, there is a big forest, it looks like a big mountain with a forest on top, but it's just a shipwreck, lots of shipwrecks in the area actually.
Mooring is normally fairly easy, but it was actually quite hard because of the tides in the river. We needed to be very precise to not end up like the wrecks!
Venturing off the beaten path
I had two more days in French Guiana before flying back to Europe. The next day we spent it exploring some other rivers in the area. We actually got tips on where to go from David. He explained other smaller rivers are branching off the Maroni.
He suggested we sail through those because even though they didn't look it (they seemed very narrow), they are much deeper than the larger Maroni river, where you have to be very careful not to get stuck on the sandbanks.
If we wanted to, we could have even gone further than Maroni, which is about 50k downstream off the river mouth. One can sail about 20k north of Maroni, but David spoke against it since it can be hazardous. It seems that because of covid, people there are quite desperate. There is a lot of crime and drug trafficking over to Surinam.
We took heed of David's advice and didn't continue to go further downstream. Instead, we started going upstream again and went to check out all the little rivers we'd learned about.
It was a really cool experience. In the middle of the Amazon, there are all these little rivers branching off. They were very narrow, barely 20m wide – to put it in perspective, our catamaran is 7 m. wide – so it was tight, to say the least.
That didn't stop us from navigating these waters straight to sunset. We did a lot of wading through these waters. We were hoping to see a lot of wildlife there, but we weren't so lucky.
We did see lots of birds but not a lot of land animals. We probably navigated too fast to really spot anything.
At some point, we let the drone fly and took some amazing photos of our boat in the middle of the jungle with trees as far as the eye could see.
All in all, it was a really great afternoon sailing around all these little creeks, exploring unspoiled nature. As night fell, we made our way back to the port in Maroni.
Time flew by: Last day in French Guiana
The next day was already my last day in French Guiana. In the morning, I did my consulting calls and then went to see a little more of the town.
In preparation for leaving the crew, I gave them some funds to prepare for their next crossing. After all the business stuff was taken care of, I met up with David, who was kind enough to offer me a ride back to Cayenne.
He agreed to drive me back the whole way we did by boat. Thankfully, he had a fascinating life with great stories to tell me during our 4-hour car ride to the airport.
He's had ten very different types of jobs all over the world. Had a farm in Australia, lived in Italy – was a deep-sea diver – and now he started marina in French Guiana. He pretty much told me his life story, and it was great. A very interesting character for sure; I really enjoyed our chat.
Can warmly recommend checking out his little marina and give French-Guiana a try. as a sailor. You can reach him at: office@marinaslm.com
Once at the airport, I just waited for my flight with some entertainment.
I flew business again with Air France direct from FG to CDG with a red-eye flight. This time, I didn't have a long layover in Paris from CDG. I had my next flight straight to Germany to go visit my family for a bit.
Looking ahead…
The boat stayed with Josh, who was preparing to cross waters again. They stayed in St. Laurent de Maroni a few more days after leaving provisioning and getting some work done on the boat.
Josh and the crew still had 1,500 nautical miles ahead of them. Their next adventure was sailing to Bonaire with a stop to Tobago, which took them eight days. After some rest in Bonaire, they will cross over to Cartagena, Colombia. Where I will be meeting them for New Year's Eve, very much looking forward to that.
The next time I meet the Staatenloss and the crew, I will spend about six weeks on the boat. Finally, extended periods of sailing again on my horizon.
A much longer time than this quick stint to French Guiana. I actually didn't excerpt to enjoy French Guiana as much as I did. I'd been to Suriname before and English Guyana and found them to be quite the shit holes if I'm being honest.
I definitely liked French Guiana the most, especially because I explored it with my own boat.
The only thing that would have made the trip nicer would have been to witness a rocket launch, but other than that, the islands were great, the creeks in the Maroni river also a unique experience, and last but not least, I met some pretty great people.
It was a great week; I was surprised at the end that I somehow got to see a lot while doing 25 consulting calls over the week.